What is a cover letter for a safety officer?
When there is a vacancy for a safety officer in an organization, people with experience are invited to apply for that post if they are eligible. While applying for the job, people are required to send their resume, credentials as well as a cover letter. A cover letter is basically used to give additional information regarding the candidate applying for the job.
How to write a cover letter as a safety officer?
If you have prior experience of working as a safety officer and you think that the job you are applying for is suitable for you, you should never miss out on that opportunity. Many people don't know how to write a cover letter. So, when they write a cover letter with little or no knowledge, they end up writing a cover letter which is a complete disaster. To help such people, we are providing some easy-to-follow guidelines:
Start with the header:
The header of the letter is usually located at the top of the letter. It includes the information of the employer such as the name of the employer, company name, his contact details, and much more.
Add proper salutation:
A salutation in a cover letter plays a major role in making this letter a successful piece of writing. To use a proper salutation, you should know that who is the hiring manager and how he can be addressed in the letter. In case you don't know the hiring manager, it is better to call him the hiring manager instead of using a typical line of '' to whom it may concern''.
Write introduction:
After covering the header and some typical parts of the cover letter, you can start writing the introduction. The introduction is the main part of the cover letter because this is what you write your cover letter for. Your introduction should be brief and understandable. In this part of the cover letter, you can tell the potential employer about your achievements as a safety manager.
If the hiring manager has asked only experienced people to apply and you do have experience, you should focus on your prior experience to let the employer know that what difference you can bring to his company with your experience.
Closing:
In the closing part of the letter, you are required to conclude everything. This is a major part of the letter because this is where the entire cover letter starts making sense. Without a proper closing, the reader does not understand what was the purpose of writing this letter to him. In the closing section, you can explain some of your key skills again. Make sure that these skills are those which are a strong fit for the job you are applying to.
Sample Cover Letter
5th Feb 20XX
Name of the company,
Dear HR,
I would like you to accept this letter as an expression of interest in the post of safety officer in your company. I am a passionate and enthusiastic safety offer with extensive experience of 5 years in the same field. I have a strong background in providing valuable security solutions to the company I have worked in.
I have always been an avid learner when it comes to improving my skills in emergency management and reporting security concerns ahead. I, as a safety officer, am a smart and intelligent person who is a perfect problem solver who manages everything with accuracy and proficiency.
In my current job as a safety officer, I have worked for the safety of concerns of the company and have tried to bring improvements to the business with my work. I am a progressive and career-oriented person who always looks for new ways and opportunities to avail myself. My collaboration skills are excellent. I am capable of working in teamwork to achieve a particular goal.
I would like here to request you to take a moment and have a look at the resume I am attaching with this letter along with the credentials. I am looking forward to your response.
I am highly obliged for your consideration.
Regards,
Name of the sender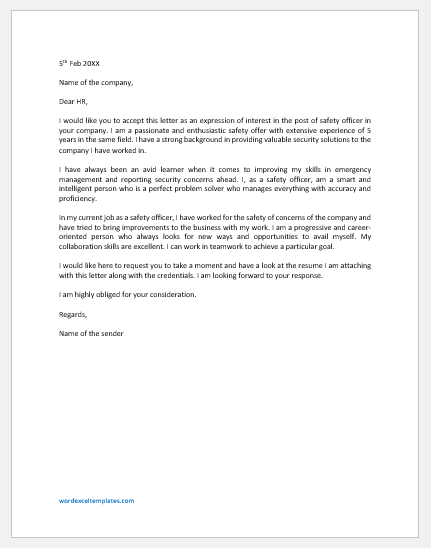 File: Word (.docx) 2007+ and iPad
Size 19 Kb
Download
---
See also: Cover Letter for Safety Officer without Experience