Hygiene and cleanliness are basic physiological needs for everyone. While hygiene habits and standards across people may differ, there is a basic need that is common amongst all. Hygiene and cleanliness particularly become a critical issue at public places such as school and offices where toilets have to be shared. Public toilets are home to germs which can lead to diseases and infections. Moreover, many people, when they use toilets at schools and offices, do not care about keeping them clean.
Throwing tissues outside the rubbish bin, forgetting to flush, foul odor and splattering water while washing hands are some common problems. Going to a messy, untidy toilet is not only difficult but disgusting.
While schools and offices have cleaners, who are in charge of keeping the toilets clean; some responsibility also rests with the users. Most schools and offices periodically issue notices and emails on maintaining toilet cleanliness. If students and/or faculty in schools or employees in offices have any complaints about toilet cleanliness they may notify the administration.
Samples
1- Complaint letter for office toilet not clean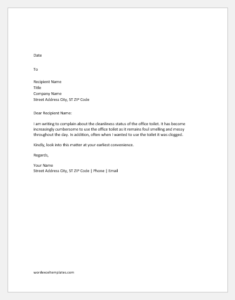 Dear Ms. Amy,
I am writing to complain about the cleanliness status of the office toilet. It has become increasingly cumbersome to use the office toilet as it remains foul smelling and messy throughout the day. In addition, often when I wanted to use the toilet it was clogged.
Kindly, look into this matter at your earliest convenience.
Regards,
Ted Evans
---
2- Complaint letter for office toilet not working/not present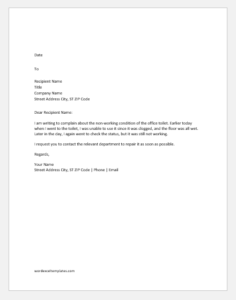 Dear Mr. Vermont,
I am writing to complain about the non-working condition of the office toilet. Earlier today when I went to the toilet, I was unable to use it since it was clogged, and the floor was all wet. Later in the day, I again went to check the status, but it was still not working.
I request you to contact the relevant department to repair it as soon as possible.
Regards,
Samantha Manning
---
3- Toilet cleanliness notice to students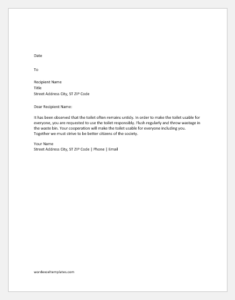 Dear Students,
It has been observed that the toilet often remains untidy. In order to make the toilet usable for everyone, you are requested to use the toilet responsibly. Flush regularly and throw wastage in the waste bin. Your cooperation will make the toilet usable for everyone including you. Together we must strive to be better citizens of the society.
Thanks,
Ms. Amelia Banks
---
4- Toilet cleanliness notice to office staff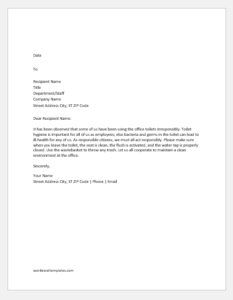 Dear staff,
It has been observed that some of us have been using the office toilets irresponsibly. Toilet hygiene is important for all of us as employees; else bacteria and germs in the toilet can lead to ill-health for any of us. As responsible citizens, we must all act responsibly. Please make sure when you leave the toilet, the seat is clean, the flush is activated, and the water tap is properly closed. Use the wastebasket to throw any trash. Let us all cooperate to maintain a clean environment at the office.
Sincerely,
Ms. Irene Roderick