Sports and games play a very important role in a student's life. The physical activity is very important for the mental and physical growth of a student. Therefore, different educational institutes try to provide proper sports facilities for students. It is considered as a drawback of an Institute that does not provide proper sports facilities.
Sports facilities that are provided in an institute are a big playground, equipment for different games, sports teacher for coaching and a lot more.
The institute is also required to conduct different sports events in school so that different students can participate in them. These events improve the confidence of a student and boost his/her self-esteem.
If a school is claiming to provide all the sports facilities for the students, it is necessary for you to write a complaint letter to the school principal to let him know about the lack of resources.
A complaint letter is always written with the expectation that the school's principal will listen to your problem and will take certain actions to solve the problem.
When you are dissatisfied with the school's poor facilities or due to lack of resource, you can express your emotions using complaint letter. This complaint letter is also used as a platform where you can request the school's principal to provide better sports facilities.
How to write the complaint letter about lack of sports facilities?
The letter should include your personal information such as your name, contact number, complete address etc. If you are a student, add your class and section name also.
Your letter should be to the point.
Mention the time duration for which you can wait for the principal to take actions.
The problems with the sports facilities should be explained in the letter briefly.
If there are multiple problems such as lack of equipment, no games coach, and no proper ground, you can enlist all of them in the letter.
End the letter with a hope that your letter will get acknowledgment.
Sample Letters
#1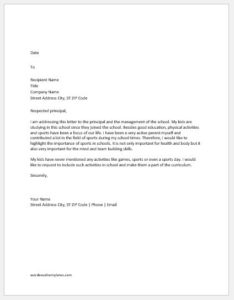 I am addressing this letter to the principal and the management of the school. My kids are studying in this school since they joined the school. Besides good education, physical activities and sports have been a focus of our life. I have been a very active parent myself and contributed a lot in the field of sports during my school times. Therefore, I would like to highlight the importance of sports in schools. It is not only important for health and body but it also very important for the mind and team building skills.
My kids have never mentioned any activities like games, sports or even a sports day. I would like to request to include such activities in school and make them a part of the curriculum.
---
#2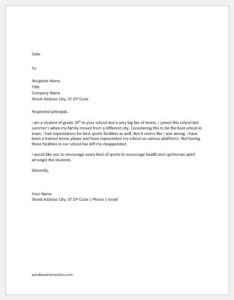 I am a student of grade 10th in your school and a very big fan of tennis. I joined this school last summer's when my family moved from a different city. Considering this to be the best school in town, I had expectations for best sports facilities as well. But it seems like I was wrong. I have been a trained tennis player and have represented my school on various platforms. Not having these facilities in our school has left me disappointed.
I would like you to encourage every kind of sports to encourage health and sportsman spirit amongst the students.