If you are not satisfied with the work of a contractor, you can simply let him know by writing a letter. The purpose of writing the letter should be to let the reader know about the drawbacks that you have seen in his performance so that he can improve his work.
When you are working with the contractor, you both are in a legal agreement. It is a requirement of that agreement that you and the contractor do the job well.
You can ask the contractor to bring improvement in the work if it is not up to the mark. Writing a letter is the best way to convey your point of view to the contractor.
To clearly describe the unsatisfactory part of the work and what you want the contractor to improve, you should be able to write an effective writer. The letter should be written in a formal tone so that it can impart a professional look.
Make sure that you are explaining everything in the letter that the contractor is required to know. It should also be kept in mind that your letter should not be too long for the reader to read and comprehend.
Sometimes, the poor performance of the contractor causes a lot of loss in the business due to which you get very angry. Your letter should not convey your feeling of anger or resentment towards the contractor as it may ruin your relationship with him.
Your letter should be written in such a way that the contractor can understand that it is his legal obligation to give satisfactory work.
If you have some documents that can prove your point, attach them with the letter. For example, if any of your customers have a complaint about the work done by the contractor you can attach a copy of the letter with this letter.
Tell the contractor that in extreme cases, you will have to hire another contractor to get satisfactory work. End the letter with the hope that the contractor will improve his quality of work.
Sample Letters
#1
I am writing this letter to bring to your knowledge that I am highly unsatisfied with the work you have done on my house. I hired you two months ago for a renovation project because of your good reputation in the market. However, I feel disappointed with the job.
Just two months after you installed new plumbing, there are leaks in the bathroom as well as the kitchen. The rooms you renovated are in quite a condition. The wooden flooring is becoming loose while the wall paints in chipping off. Similarly, the list of problems goes on.
I invested a large sum of money in this renovation project and expected to see a great result. On the other hand, my house is now in a messy condition because your team performed a poor job. You must pay a visit and inspect all these issues first-hand. I expect you to fix all these problems or refund my payment so that I can hire a better contractor to do the job.
Give me a call this week so that we can decide on a plan of action as soon as possible.
#2
I have discovered some construction problems with the pool that you have built in our home. I have given you clear instructions regarding the depth and width of the pool. Being an experienced swimmer, I could tell that the pool was not built perfectly. Upon measurement, I just found that you did not follow my instructions. This is very devastating and dangerous at the same time.
Reasonable care should have been exercised while performing the construction work. I would like to request you to reconstruct the pool as per my instructions and refund me 5% of my money for the inconvenience you have caused.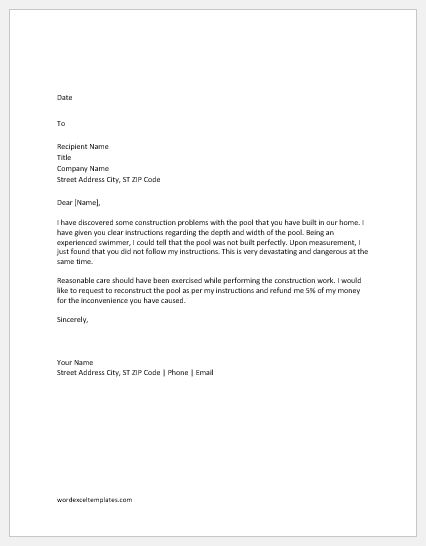 #3
I got to hear some really good reviews about your construction and renovation work from my friends after which I decided to hire you for doing my kitchen. I am sure your work has been awesome, but I had my worst experience with you. The tiles that you have used in the kitchen have already started to crack. It has just been a month since we put up these tiles. The countertop marble lab has also come off. The poor quality of these materials indicates that you have used cheap quality products. This is against our construction contract.
I would like you to review your work and offer a quick solution to these problems.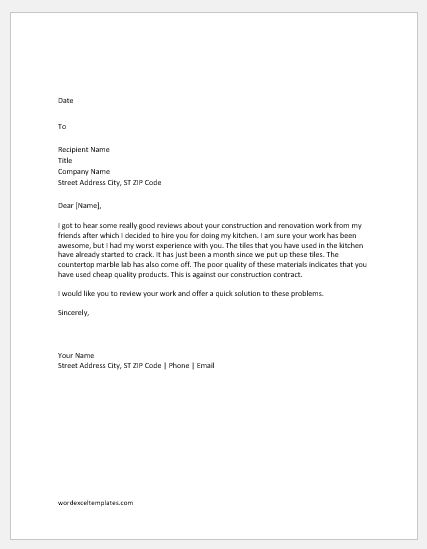 See also: