The closing hours for holidays notice is issued by a business or a company to inform about its closed operations during a holiday. This notice can be used for the employees, customers or both. In this note, the company formally announces to its employees and/or its customers, so to avoid any inconveniences and confusions, that the company would not be working on some specific dates or hours.
Through this notice, the company notifies that all the deliveries, emails and correspondences would resume once, the company reopens. However, sometimes, the companies do not close the communication channel, especially the communication through the email, and continue dealing with its customers or responding to its employees over the email, even in the holiday time.
This notice is important as there are many holidays, such as Christmas, Thanksgiving, anniversaries, birthdays, etc., and the companies need to inform whether they and their employees are going to enjoy those holidays or they will remain open and continue to work. In addition, if a company does not want to close the operations but only limits the number of hours over the holiday time, this notice can help the employees in altering the timing for their family gatherings as well as it will inform the customers so that they can rearrange their timing for the visit. As this is a formal and written notification, it helps in clarifying any misunderstandings and issues for the employees and customers.
Sample Notice 1
Hello!
Please note that our office will remain closed on this Thursday due to Thanksgiving and we are giving an additional holiday on Friday so that, you all can have a lovely long weekend. Get your free coupons from the HR department as your Thanksgiving gift from us.
Come on Monday with a refreshed spirit. Happy Thanksgiving! Enjoy!
Regards,
XYZ Management.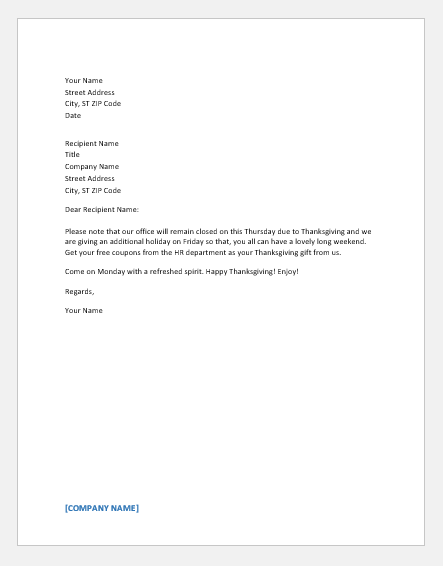 Sample Notice 2
Hello our wonderful customers!
Our store will remain closed on 11th March 2020 as a celebration of our 23rd anniversary. We will reopen on 12th March 2020 and on that day, you can enjoy a 23% discount on all our products. The timings will remain the same, i.e. 9:00 a.m. till 9:00 p.m.
Come and enjoy the shopping! We are sorry for any inconvenience caused.
Regards,
Phillip Jake,
Manager Operations.
Sample Notice 3
Hello Jeff,
I am leaving on a two-week holiday to go to another country with my family. I will, most likely, have limited internet access, throughout my trip, due to my pre-planned traveling to remote areas. This means that I will not be available for the next two weeks, starting from 14th March 2020, even on emails.
In my absence, you can seek any sort of guidance or assistance from Mr. Jake Walter, who is my assistant manager. I have equipped him with all the documents and information that you may need over this time. He is quite competent and I am sure you will not face any issues in his presence.
I will come back and join the office on 28th March 2020. I will also respond to your emails after that.
See you then!
Regards,
William James.
Holiday Memo to Staff
It is standard practice to issue memos relating to daily office affairs. Memos are an efficient way to communicate with internal stakeholders. Memos can be used for various purposes such as punctuality, use of office equipment or premises, use of office toilets, important events, a reminder for official rules, general violations of office rules, holiday and many others.
Whenever a business or organization is to be closed for a day or more, it must issue a memo to announce the holiday. Holidays must be announced in advance so that people can plan their work and life accordingly. No one really wants to travel all the way to the office only to know that it's a holiday today. To save time, effort and money for employees and management, holiday memos are issued to staff. Usually, such memos may be sent through emails and posted on the notice board.
Memos remind employees of holidays and clear out any doubts regarding office days. For example, employees may be unsure about the Christmas holidays. Issuing a memo ensures that employees know exactly when their Christmas holidays begin and end.
Samples
1- Public holiday memo to staff
To: Office staff
Subject: Announcement of Public Holiday
This is to inform you that the office will remain closed on September 01, 20xx because of being a public holiday. The office will duly resume on September 02, 20xx.
Sincerely,
2- Religious holiday memo to staff
To: Office staff
Subject: Announcement of Religious Holiday
This is to inform you that the office will remain closed on June 16, 20xx on account of observing the religious occasion of [enter religious day]. Office will duly resume on June 17, 20xx.
Sincerely,
3- Christmas holiday memo to staff
To: Office staff
Subject: Announcement of Christmas Holidays
Please note that the office shall remain closed for Christmas from December 24, 20xx to December 27, 20xx. The office will resume on December 28, 20xx. We hope you spend this time with family and loved ones.
Wish you all a Merry Christmas!
Sincerely,
4- General Holiday memo to staff
To: Office staff
Subject: Announcement of General Holiday
Please note that the office will remain closed for a day on September 15, 20xx. All business activities will resume from September 16, 20xx.
Sincerely,
Easter Holiday Announcement
1. For Employees
Please note that the Easter holidays will commence from Friday, 19th April 2019. The office will reopen on Tuesday, 22nd April 2019. No business activities will take place during this period.
The company wishes everyone Happy Easter. Hope you have an enjoyable time with your family during this break.
2. For Customers
ABC would like to wish all its valuable customers Happy Easter in advance. Due to the holiday break, our stores will remain closed from (date) to (date). We would love to see you again once our regular routine resumes after the holidays.
We hope you have a great time with your friends and family. May this Easter bring lots of happiness and joy to you.
3. For Client
It is to inform you that the office shall remain closed this Friday on account of the Easter holidays. As a result, we will not be able to provide our services to you this weekend.
Our business activities will resume from Monday, 22nd April. We look forward to serving you again after Easter.
Wish you and a joyful time.
4. For Educational Institutes
The college will remain closed on the following week from (date) to (date) due to Easter holidays. Take this opportunity to enjoy the break with your family and friends before returning to the regular routine. Wishing a happy Easter to all faculty members and students.