House financing is a bank's service for its customers. Through this service, customers can buy their house on credit and then pay off the money in installments. To secure itself, the bank asks the customer to authorize it to deduct the due installment from his account whenever the customer fails to make the payment. In some cases, the customer allows the bank to deduct from his funds every month.
What is an authorization letter of payment on house financing?
This letter is considered an official document that has a lot of significance in the business world. Through the letter of authorization, the customer of the bank permits the bank to deduct a specific amount from his account as payment on a housing loan. Since the customer is a borrower, it is incumbent upon him to pay off the loan by any means. Writing the authorization letter is considered as one of the measures the customer takes to pay off the loan.
What is the purpose of writing the authorization letter on a housing loan?
As a matter of fact, the lender always needs a guarantee from a borrower after has been paid an amount for buying a house. Nobody wants the funds to be deducted from their account. So, when they authorize someone to do that, it means it is a guarantee that they are honest in their business dealing and they are never going to compel the lender to deduct funds from their account due to non-payment.
This letter also serves as a business dealing between two parties. Sometimes, a borrower can't borrow money unless he writes an authorization letter. It is important to note that the borrower can borrow the money only if he has that specific due amount in his account.
Writing tips:
It is a very critical task to write a permission letter to someone, especially in a business setting. Some people end up writing it incorrectly or giving authorization that makes them land in hot water. Therefore, following the tips given below can be helpful for them:
If you are running an organisation and you have applied for a loan based on your business income, write the authorisation on the letterhead of your company.
Don't forget to mention the amount the lender is allowed to take from your account.
In case you are applying a condition to carry out a transaction from your account on a house loan, make sure you clear everything. For instance, if you are permitting the lender to take money from your account if you don't pay till the 10th of every month, make it clear to the reader and mention that he is not allowed to make money before that date.
If you are not sure how  to give authorisation to the reader, take help from an attorney who can effectively guide you or write an authorisation on your behalf.
Know the format of the letter and follow it religiously. If you don't know the format, get assistance from an online source.
To help you get started with writing a professional permission letter below is a sample letter for you
Sample letter:
Date:
To whom it may concern
Respected Sir/Madam,
Subject: Letter of authorization to [X]
I __________, authorize ABC bank to make payments from my account on the housing loan. I also authorize the bank to make credit and debit entries to my account. I understand that all the transactions that are carried out from my account by the bank must show compliance with the law of the state. The authorization given by me will remain effective from today, 20th Sep 20XX to 20th Oct 20XX.
I know that the bank has the right to credit entries and therefore, I should keep the required amount in my account. The bank is allowed to deduct funds from my account and no late charges should be applied to those funds.
Name of the bank: _______________
Name of the customer: _______________
Address of the customer: __________________
Account number: _____________________
Account type: __________________
Due amount: ________________
Due date of payment: ____________________
Signatures: __________________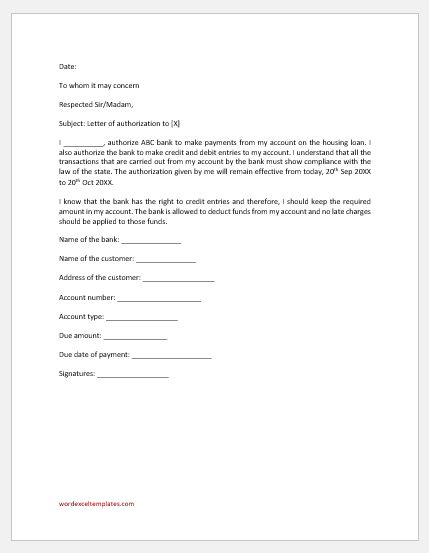 File: Word (.docx) 2007+ and iPad
Size 28 KB