Anytime an employee takes a leave whether it is casual or annual or taken for medical reasons, he/she notifies the department through email or a written application. If possible, all organizations prefer to be notified before an employee takes leave. However, this may not always be possible and so in special circumstances employees may submit leave application afterward.
Even so, employees are expected to make a short phone call and verbally notify the office that they will be unable to reach work on that day.
The nature of such leaves must be urgent and unexpected such as feeling unwell, meeting an accident, an unexpected death in the family, unexpected medical emergency in the immediate family, or a car break down etc.
For longer leaves, the supervisor's authorization is necessary. Thus if a person wants to apply for more than 2 days leave, they must notify their boss in advance. Depending on organizational policies, all employees are entitled to casual/annual leaves, medical leaves, paternity and maternity leaves. Employees can claim these leaves when appropriate.
Applying for a long leave is an employee's right since he/she works hard throughout the year. There can be many reasons to apply for an extended leave and not all of them need to be urgent. As long as the employee's absence is not affecting an organization's important deadlines, supervisors usually approve leave applications.
Some situations where a supervisor may not approve long leaves would be:
If the leaves coincide with the end of the fiscal year and there is a lot of workloads
If the leave coincide with important events in which you have a major role
If you are in charge of a project or an important client and the said leave timing clashes with client interests or project completion
If the organization is already short of staff
If you are planning to go on extended holidays for a month you may write to your supervisor explaining your reasons. If the supervisor authorized your leave, you may then submit the application to the HR department. Situations in which you may submit an application for a month's leave are:
You are getting married
A close family member is getting married
You are recuperating from an injury, accident or medical condition
You want to avail paternity leave
You are planning to travel
You want to unwind, relax and spend some time doing what makes you happy
You want to spend some time with family
You are planning a trip abroad with friends, family or a loved one
A sample application
Subject: Application for leave of one month
Dear Ms. Penn,
I am writing to request a month's leave from September 25, 20xx to October 24, 20xx. As I mentioned in our conversation earlier, I shall be traveling to Scotland to participate in my sister's wedding. Since she is alone there, I wish to help her with the wedding arrangements and be a part of her special day.
I am currently working on two projects that are both near completion. I am planning to complete both these projects by Septermber18, 20xx. Apart from that, I have also spoken to Mr. Samuel and he has kindly agreed to take over any pending tasks in my absence.
I shall be available throughout this period via email. Should there be any queries, please email me at [EMAIL] and I will get back to you as soon as possible. I hope you would approve my leave.
Look forward to your cooperation.
Sincerely,
Nancy Morgan
Preview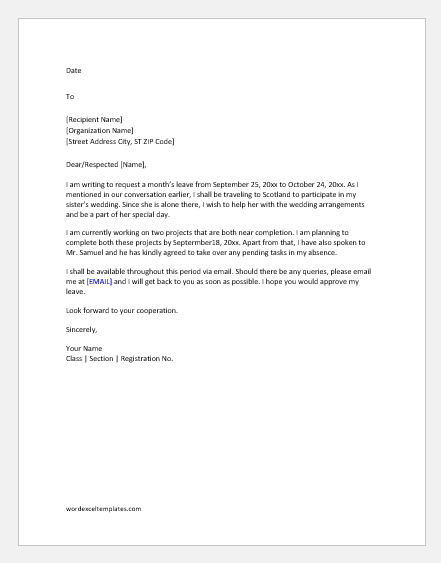 MS Word [.docx] | Download
One month leave application from school/college/university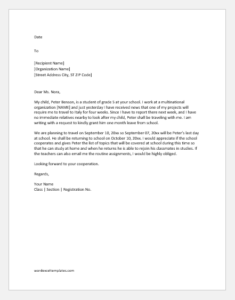 Dear Ms. Nora,
My child, Peter Benson, is a student of grade 5 at your school. I work at a multinational organization [NAME] and just yesterday I have received news that one of my projects will require me to travel to Italy for four weeks. Since I have to report there next week, and I have no immediate relatives nearby to look after my child, Peter shall be traveling with me. I am writing with a request to kindly grant him one month leave from school.
We are planning to travel on September 10, 20xx so September 07, 20xx will be Peter's last day at school. He shall be returning to school on October 10, 20xx. I would appreciate if the school cooperates and gives Peter the list of topics that will be covered at school during this time so that he can study at home and when he returns he is able to rejoin his classmates in studies. If the teachers can also email me the routine assignments, I would be highly obliged.
Looking forward to your cooperation.
Regards,
Samantha Benson
One month leave application for the marriage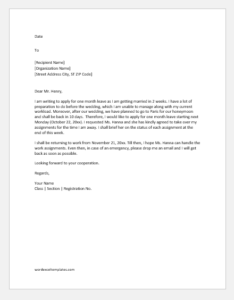 Dear Mr. Henry,
I am writing to apply for one month leave as I am getting married in 2 weeks. I have a lot of preparation to do before the wedding, which I am unable to manage along with my current workload. Moreover, after our wedding, we have planned to go to Paris for our honeymoon and shall be back in 10 days.  Therefore, I would like to apply for one month leave starting next Monday (October 22, 20xx). I requested Ms. Hanna and she has kindly agreed to take over my assignments for the time I am away. I shall brief her on the status of each assignment at the end of this week.
I shall be returning to work from November 21, 20xx. Till then, I hope Ms. Hanna can handle the work assignments. Even then, in case of an emergency, please drop me an email and I will get back as soon as possible.
Looking forward to your cooperation.
Regards,
Johanna Simmons
One month leave application for exam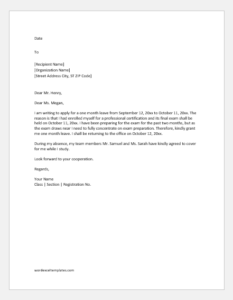 Dear Ms. Megan,
I am writing to apply for a one month leave from September 12, 20xx to October 11, 20xx. The reason is that I had enrolled myself for a professional certification and its final exam shall be held on October 11, 20xx. I have been preparing for the exam for the past two months, but as the exam draws near I need to fully concentrate on exam preparation. Therefore, kindly grant me one month leave. I shall be returning to the office on October 12, 20xx.
During my absence, my team members Mr. Samuel and Ms. Sarah have kindly agreed to cover for me while I study.
Look forward to your cooperation.
Regards,
Ryan Ray
One-month medical leave application from the office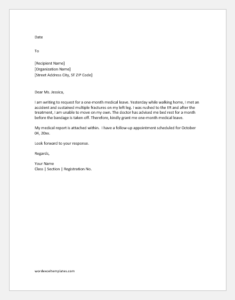 Dear Ms. Jessica,
I am writing to request for a one-month medical leave. Yesterday while walking home, I met an accident and sustained multiple fractures on my left leg. I was rushed to the ER and after the treatment, I am unable to move on my own. The doctor has advised me bed rest for a month before the bandage is taken off. Therefore, kindly grant me one-month medical leave.
My medical report is attached within.  I have a follow-up appointment scheduled for October 04, 20xx.
Look forward to your response.
Regards,
Jonathan Meyers