An apology letter to a teacher is a professional apology letter written by a student in which he addresses his teacher and seeks apology for his disrespectful or rude behavior. Occasionally, students become disrespectful toward their teachers and through this letter, they can show their regretful feelings about their wrong action and ask for forgiveness.
Teaching is a profession that demands respect and when a teacher is showering his knowledge onto a student, the student should respect him for this learning. However, students often indulge in unacceptable and unprofessional behavior and hence seeking an apology is important in maintaining a good relationship with the teacher as well as making the situation normal for a teacher who is upset due to the wrong behavior.
There are different circumstances when a student should write an apology letter for his/her wrong behavior. Some situations could be:
Hard to confront– sometimes, a student finds it difficult to apologize to his teacher, face to face, and this professional letter can solve the problem as well as it can be kept in the student record file.
Disrespectful and rude behavior– the student was rude or got engaged in an argument with the teacher or responded badly when a teacher tried to correct him as he did not want correction in front of the whole class. There could be many ways a student can exhibit unprofessional and rude behavior in class such as leaving the class when scolded by the teacher, talking in the class during lecture, coming late in the class, etc.

Cheating

– sometimes, students cheat their teachers by copying other students' assignments or quizzes.
Bunking class– if a student does not attend the class for any reason, the apology should be requested.

No homework

– the student is expected to properly do his homework and in the opposite scenario, he should ask for forgiveness for not fulfilling his duty properly.
When writing an apology letter, a student should consider many things. Few of those are:
Form your apology properly.
The apology should be sincere.
No excuses should be provided.
The teacher should not be blamed.
The words used should be professional.
The letter should be concise and professional and should show regretful feelings clearly.
The apology should mean that bad behavior will not be repeated.
A letter of apology to the teacher often normalizes the situation and makes the learning environment cooperative and better.
Sample Apology Letter to Teacher for Misbehavior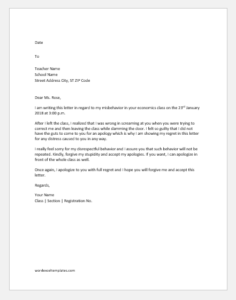 Dear Ms. Rose,
I am writing this letter in regard to my misbehavior in your economics class on the 23rd January 2018 at 3:00 p.m.
After I left the class, I realized that I was wrong in screaming at you when you were trying to correct me and then leaving the class while slamming the door. I felt so guilty that I did not have the guts to come to you for an apology which is why I am showing my regret in this letter for any distress caused to you in any way.
I really feel sorry for my disrespectful behavior and I assure you that such behavior will not be repeated. Kindly, forgive my stupidity and accept my apologies. If you want, I can apologize in front of the whole class as well.
Once again, I apologize to you with full regret and I hope you will forgive me and accept this letter.
Regards,
David Will
Sample Apology Letter to Teacher for Rude Behavior in Class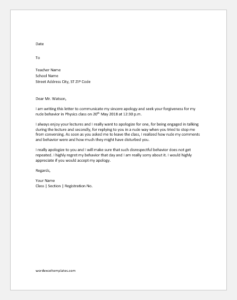 Dear Mr. Watson,
I am writing this letter to communicate my sincere apology and seek your forgiveness for my rude behavior in Physics class on 20th May 2018 at 12:30 p.m.
I always enjoy your lectures and I really want to apologize for one, for being engaged in talking during the lecture and secondly, for replying to you in a rude way when you tried to stop me from conversing. As soon as you asked me to leave the class, I realized how rude my comments and behavior were and how much they might have disturbed you.
I really apologize to you and I will make sure that such disrespectful behavior does not get repeated. I highly regret my behavior that day and I am really sorry about it. I would highly appreciate if you would accept my apology.
Regards,
Joe Smith
Sample Apology Letter to Teacher for Cheating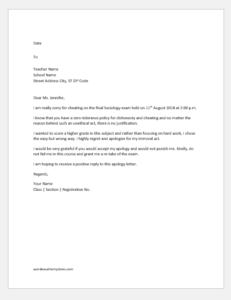 Dear Ms. Jennifer,
I am really sorry for cheating on the final Sociology exam held on 11th August 2018 at 2:00 p.m.
I know that you have a zero-tolerance policy for dishonesty and cheating and no matter the reason behind such an unethical act, there is no justification.
I wanted to score a higher grade in this subject and rather than focusing on hard work, I chose the easy but wrong way. I highly regret and apologize for my immoral act.
I would be very grateful if you would accept my apology and would not punish me. Kindly, do not fail me in this course and grant me a re-take of the exam.
I am hoping to receive a positive reply to this apology letter.
Regards,
Emily Jones
Sample Apology Letter to Teacher for Bunking Class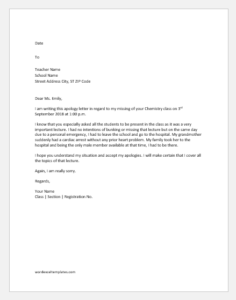 Dear Ms. Emily,
I am writing this apology letter in regard to my missing of your Chemistry class on 3rd September 2018 at 1:00 p.m.
I know that you especially asked all the students to be present in the class as it was a very important lecture. I had no intentions of bunking or missing that lecture but on the same day due to a personal emergency, I had to leave the school and go to the hospital. My grandmother suddenly had a cardiac arrest without any prior heart problem. My family took her to the hospital and being the only male member available at that time, I had to be there.
I hope you understand my situation and accept my apologies. I will make certain that I cover all the topics of that lecture.
Again, I am really sorry.
Regards,
Ross Will
Sample Apology Letter to Teacher for not Doing Homework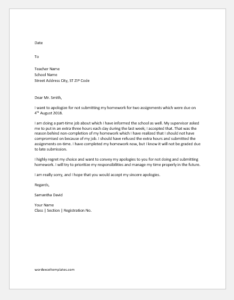 Dear Mr. Smith,
I want to apologize for not submitting my homework for two assignments which were due on 4th August 2018.
I am doing a part-time job about which I have informed the school as well. My supervisor asked me to put in an extra three hours each day during the last week; I accepted that. That was the reason behind non-completion of my homework which I have realized that I should not have compromised on because of my job. I should have refused the extra hours and submitted the assignments on-time. I have completed my homework now, but I know it will not be graded due to late submission.
I highly regret my choice and want to convey my apologies to you for not doing and submitting homework. I will try to prioritize my responsibilities and manage my time properly in the future.
I am really sorry, and I hope that you would accept my sincere apologies.
Regards,
Samantha David