An apology letter for disciplinary action is a letter written by an employee against whom any disciplinary action has been taken by the management. This letter is addressed to the employer/management, in which the employee makes an apology for his unprofessional behavior and the resultant disciplinary action. As disciplinary actions can prove to have severe effects, morally and financially, the employees often try to convince the employer to revoke them and accept the apology.
This letter is like an explanation letter which also provides a chance for the employee to explain his unprofessional and unacceptable behavior, give the proper reasoning, accept his wrong and apologize. If the management decides to accept his apology, he can be saved from the disciplinary action. Therefore, this letter should be written carefully.
Few of the considerations are:
It should be formal, professional, comprehensive and not too wordy.
The unprofessional behavior and the reason why it occurred should be stated.
Acceptance and realization of the issue should be shown.
A clear apology and assurance of no repetition of any such behavior should be provided.
The tone of the letter should be apologetic and not condescending. It is important to own the mistake and the explanation in the letter should not put the blame on others.
Generally, the details included in an apology letter for disciplinary action are:
Date.
Details of the employee.
Details of the employer.
The issue or unprofessional behavior.
A clear explanation of the incidence or behavior.
Justification, if any.
Acceptance of the mistake.
Apology.
Convincing statements for apology acceptance.
Assurance of avoidance of unprofessional behavior's repetition.
Request for apology acceptance.
Salutation and regards.
This letter is kept in the employee record file for reference. If the behavior gets repeated, the employee is prone to even severe disciplinary action.
Sample Apology Letter for Disciplinary Action
Date
Name
Address
Dear Mr. Johnathan,
I am writing this letter to apologize for my unprofessional behavior and the resultant disciplinary action.
I was having some personal issues in my married life, which led to my angry and grumpy attitude at the workplace. As last month was the month in which my divorce got finalized, I was really upset, and when Ms. Emily Steven came to me for a report review, I snapped at her and insulted her badly. On her complaint, the disciplinary committee decided that I should be suspended for two months, which I cannot afford financially, as a lot of my savings have already been drained in the divorce proceedings.
I highly apologize for my behavior. I realize that I was wrong, and I should have kept my personal and professional lives separate. I have personally apologized to Ms. Steven as well and requested her to revoke her complaint, which she has agreed to. I also want to request you to revoke the disciplinary action and accept my apology. I will be highly grateful to you. I assure you that nothing of the sort will be repeated.
Looking forward to hearing a positive reply. You can reach me at [contact].
Regards,
William Smith.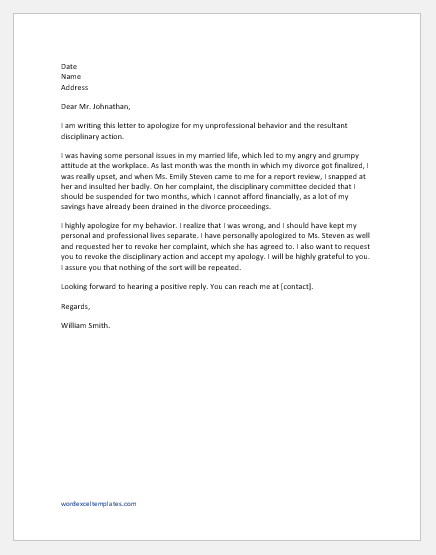 File: Word (.docx) 2007/+ and iPad Size 28 Kb |
Download
---