A request letter for disciplinary action is a letter that is either written by a manager, supervisor or colleague and is addressed to the employer or the HR department. It is like a complaint letter, in which an employee's unprofessional behavior is mentioned and a request is made by the correspondent of this letter to the relevant department to take disciplinary action against that employee.
The letter needs to be written in a formal and professional way. It is very important that proper explanation and reasoning is provided behind the request. If any remedial actions were taken or time was granted to rectify the unprofessional behavior, it needs to be mentioned as well.
Generally, the details included in a request letter for disciplinary action are:
Date.
Details of the person writing the letter/correspondent.
Details of the addressee.
Details of the person against whom disciplinary action is being requested.
Type and explanation of unprofessional behavior.
Request for disciplinary action and its reason.
Salutation and signature.
When this request letter for disciplinary action is received by the concerned department, it conducts investigations and observations to assess and analyze if the employee is actually guilty and the complaint is valid.
The HR department may or may not take disciplinary action against the employee against whom the complaint has been launched; sometimes, only a warning letter suffices.
However, this request letter would be kept in the record for any future reference, which means any unprofessional behavior should be avoided on part of all the employees.
In addition, if after the investigations, the complaint is found to be baseless, an action might be taken by the organization against the person who has sent this letter and made a request due to his personal grudges, as the severity of the disciplinary action might go till the limit of termination and requesting for firing an employee on the basis of personal issues is simply not acceptable to organizations.
Sample Request Letter for Disciplinary Action
Date
Name
Address
Dear Roger James,
I am writing this letter to request you to take disciplinary action against Ms. Sarah William, Supervisor Sales Team.
Ms. Sarah had a baby last year and was on maternity leave for three months. Since after she had come back, her performance has continuously declined. She was a star in my department and has received many awards for good performance from our company as well, which is why I was being understood and giving her time to adjust to her new routine with the baby. But her excuses have become never-ending and the performance of the department has suffered.
As a manager, I have given her enough time to show the results, which she has failed to. Now, I want to request the HR department to take disciplinary action against her, whatever action you deem to be appropriate in this scenario.
Let me know if you need any more details or documents.
Regards,
John Steven.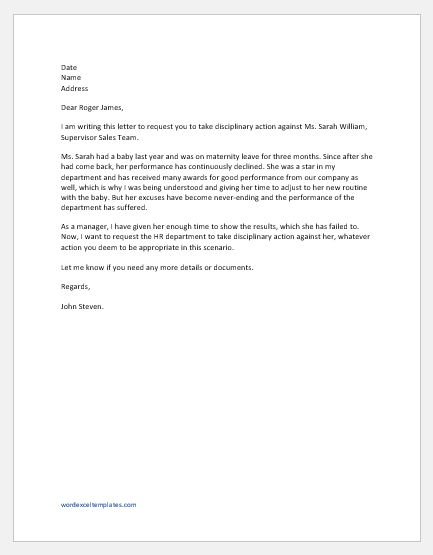 File: Word (.docx) 2007+ and iPad Size 25 Kb |
Download
---