An apology letter is written to authorities at a workplace to apologize for coming in late to work or at a particular event. Sometimes not showing up at a task or job on time can be problematic and challenging, so it is best to write an apology letter.
It is a sign of professionalism to acknowledge and amend your mistakes in the workplace by writing a letter to say you are sorry for what happened. The letter can either be e-mailed to the authorities or it can be hand-delivered. The tone of the letter must be respectful and professional, and the contents should be direct and modest.
Things to Consider
While writing an apology letter for arriving late, the following things must be kept in mind:
Reason: Define the reason due to which you arrived late at the workplace. This also includes mentioning the arrival time and the expected time or the time duration of being late.
Acknowledgment: Acknowledge the damage or inconvenience caused by your absence or late arrival and mention it in the letter.
Taking Responsibility: The letter should state that you are fully aware and responsible for the problem caused by your late arrival and that you are willing to do anything to compensate for the damage caused.
Expressing Regret: The ending note should be about how you led the person or company down by not showing up on time and you regret it and that you will make sure that it does not happen in the future.
Reasons for Being Late
Being late for work is a fairly common occurrence. It may happen to everyone at some point in the work-life. It is usually considered fine unless it becomes habitual. Some of the very common reasons are:
Stuck in Traffic
Waking up late in the morning
Family commitments
Vehicle break down
Acknowledging and apologizing for your mistakes is very important in the workplace. It lets the employer know that you care about your work and that you are willing to take steps to not let this happen in the future.
Format
Recipient Name
Date
Purpose
Apology
State willingness to compensate caused damage
Closing the letter and thanking the recipient.
Employee Name and signature
Sample Letter
James Charles
10th December 2020
Dear Mr. Charles,
I was unable to reach the office on time, on 8th December 2020. I am extremely sorry for my late arrival at the meeting with the clients. It was unfortunate that the route I used to take while traveling to the office was chocked due to an accident. I was stuck in traffic for more than 3 hours.
I understand that it seems unprofessional to not be able to present yourself at an important event. From now onwards, I will be more cautious and careful to leave early for work and especially for meetings.
I regret missing the proposal discussion, but I will extend my duties after work to compensate for the work loss. I would like to meet up with you so we can have a discussion on how to make up for it and ensure you that I will not let you down.
Thank you for your consideration.
Regards,
Martin Lawrence
[Signature]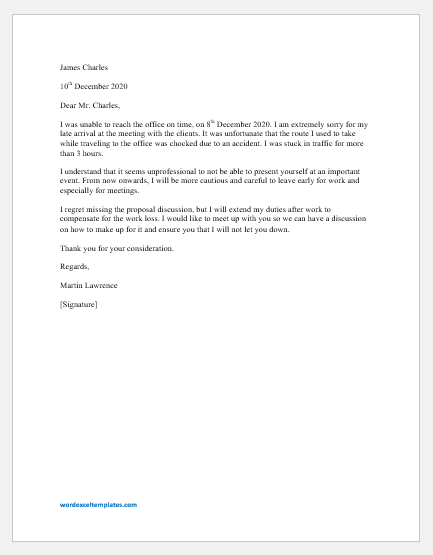 File: Word (.docx) 2007+ and iPad Size 18 Kb |
Download
---