Taxi Receipt
Taxi or cab service is a very easy way of a commute if you don't have a car of your own. It is also an easy and reliable way to commute when traveling in a new town or country. Some taxi drivers don't give receipts which can be problematic afterward, especially if you are traveling abroad. A taxi receipt is an important instrument for people traveling broadly as it can be used as a record. If you are in a new city and you lose your luggage or want to revisit a place then a taxi receipt can come in handy. Not just that but even for people who live in a city can find this receipt equally useful. The basic purpose of a taxi receipt is as follows:
To track your route afterward
To keep record of all the taxi services you used so that you can use it for official reimbursement
To reorder a given taxi service from the contact information given on the receipt
A licensed and authentic  taxi company has a proper printed taxi receipt with the following data:
The name of the company
The address of the company
The contact number of the company
The name of the driver providing you service
The license number or code of the company
The place you traveled from
The place you traveled to
The rate charged
The signature of the person who received payment.
The format used for a taxi receipts can be found and printed using taxi receipt template.
PREVIEW AND DETAILS OF TEMPLATE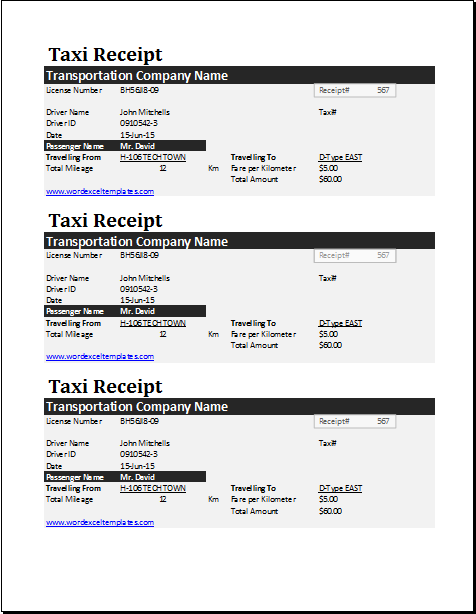 File: Excel(.xls) 2007+ and iPad 
Size 38 Kb   | Download
File: OpenOffice (.ods) Writer [Writer]
Size 21 Kb   | Download
License: ENERGY  (personal use only)
(Not for resale & distribution) by Kate Elizabeth(CEO)