Proof of Employment Letter
It is nobility to keep doing favors for people. One such favor is writing a proof of employment letter. Proof of employment letters are verification letters that are written by ex-employers for their employee as a proof that they have been employed at their workplace. Employment proofs are sometimes necessary while applying for a new job, for visa documents, for taking loans and for other such purposes. They show the background history of a person.
In order to write a proof of employment letter, make sure;
You write the letter in business letter format.
Add company's letterhead or logo to make the letter look more professional.
Before saying anything about the employee, or verification, introduce yourself to the recipient.
Your letter should contain genuine and honest information about your ex-employee. In case you give him the undue favor, this may cause problems for the new employer.
Since people are more interested to know that the person was actually employed by you, you should take a little length verifying the employment by specifying the year and month during which he has been working for you. The salary that he took, his working hours, his job title, and duties performed etc.
Remember it's a business letter so remain precise and concise. Being an employer, you can understand how it feels to read lengthy nonsense letters.
Don't forget to give your contact details in the letter, so that the recipient may confirm that you really exist and the letter wasn't a sharpened letter. Hope you won't forget to sign the letter.
Employment proof letters are not always written by employers. Sometimes, the letter is written by the employee himself but is approved by the employer. In both cases, it has to have professional elements. Notice the styles, formatting and language of this proof of employment letter samples.
Preview and Details of Template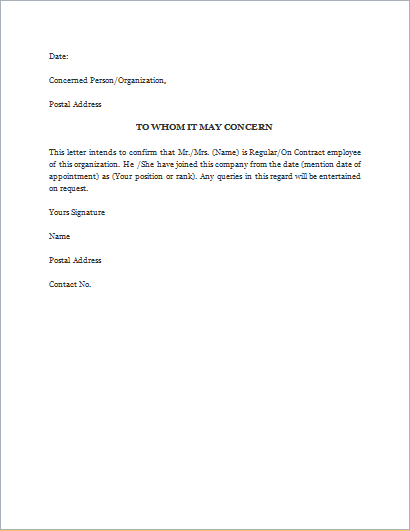 File: Word (.doc) 2007+ and iPad 
Size 24 Kb   | Download
File: OpenOffice (.odt) Writer [Writer]
Size 14 Kb   | Download
License: ENERGY  (General Use)
(Distribution) by Kate Elizabeth(CEO)