Cover Letter Enclosing Employment and Salary History
Employment and Salary History
Many of the postings ask you for the cover letter enclosing employment and salary history. There may be several reasons behind asking for the cover letter. Your cover letter with salary history mostly decides your salary so you should be very much careful when writing this type of cover letter.
A salary history is the history of the salary of the candidate of their previous job. Most of the employers ask for the candidate's salary history when applying for the job. The salary history is based on many factors such as the previous experience, industry, and cost of living.
Tips for Writing Cover Letter
When you have been asked for the cover letter enclosing employment and salary history then you should include a range of salary rather than mentioning a specific amount. This will give some compensation when you will be discussing the salary of your new job offer. Always be honest when writing about your employment and salary history in the cover letter because the employer can check your salary history with your previous employers. If you include any wrong information then your name will be removed from the application. You can also write your salary requirement in the cover letter so that the employer knows about your requirements and demands.
Cover letters are very important as it is the first impression on the employers. So, always write an effective cover letter as a poorly written cover letter can throw your resume to trash.
PREVIEW & DETAILS OF TEMPLATE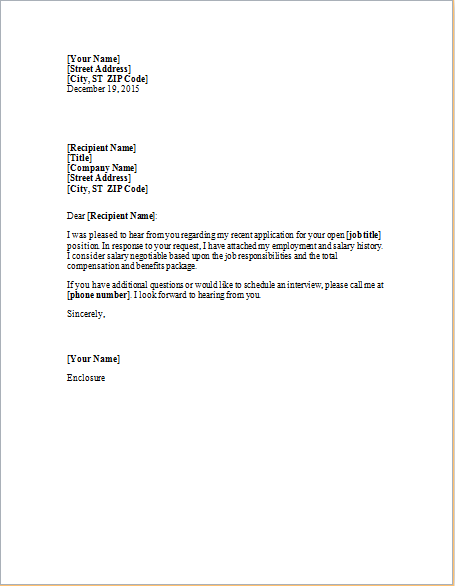 File: Word (.doc) 2007+ and iPad 
Size 25 Kb   | Download
File: OpenOffice (.odt) Writer [Writer]
Size 18 Kb   |  Download
License: ENERGY  (General Use)
(Distribution) by Kate Elizabeth(CEO)