A warning letter for disciplinary action is a letter written by an employer, in which the employer addresses an employee and warns him about a disciplinary action that can be taken against him for his unprofessional behavior. Through this letter, the employer is asking the employee to correct his behavior as well.
Employees often indulge themselves in inappropriate behaviors at the workplace, such as disrespect of and rude behavior toward colleagues, abusive words, sexual harassment, gossiping, absenteeism, bad performance, not meeting deadlines, etc. When an employee is involved in any such behavior, a company has to take some action to limit or eliminate the behavior, so that the company and its employees do not have to suffer, and other employees get the hint not to follow the suit.
Warning letters are, usually, the first step of the companies before taking any severe action against the employees. The company issues the warning letter for disciplinary action and informs the employee that if the corrective measures are not taken on his part, disciplinary action against him could not be avoided. As this is only a warning letter, the employee can utilize the opportunity given by the company and avert unprofessional behavior in the future to escape any disciplinary action.
The company can prepare the letter itself from the scratch or use the company template or a readymade template from any online source or program, such as MS Word. The specific details are different for every company but, generally, the following details are included in all the warning letters for disciplinary action:
Date.
Unprofessional behavior and its occurrence.
Reference to the complaint, if any.
Reference to the company policy.
Any disciplinary meeting or probable disciplinary action.
Signature.
This warning letter for disciplinary action provides a chance for the employee to explain his behavior, apologize and ensure that it will not be repeated. At the same time, it also gives time to the employer for analyzing the case and situation effectively to avoid any innocent becoming subject to the disciplinary action.
The given letter is a sample and a guide only. You can add any particular or additional details according to your circumstances of the action.
Sample Warning Letter for Disciplinary Action
Date
Name
Address
Dear Mr. Watson,
This is to inform you that a disciplinary meeting is going to be held on 9th October 2019 at 2:00 p.m. in the meeting room on the first floor.
This meeting has been arranged due to your unprofessional behavior on 5th October 2019 with your manager Mr. John Wilson. You not only misbehaved with him but also used abusive language in front of everyone. He felt extremely disrespected and has filed a complaint against you. The company is considering a severe disciplinary action to the extent of your termination. It is clearly stated in our company policy manual that this kind of behavior is intolerable in our company.
You are entitled to bring any of your colleagues as a witness to justify your case.
Regards,
Emily Geller.
Country Manager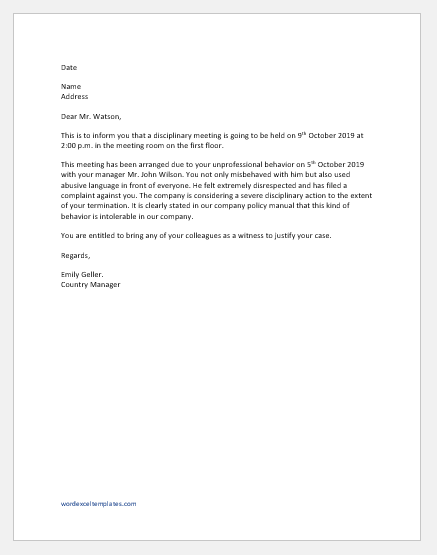 File: Word (.docx) 2007+ and iPad Size 17 Kb |
Download
---