1-
Keeping the tradition of organizing annual Thanksgiving parties, we, the Richards, are, yet again, wholeheartedly inviting you to our residence for the Thanksgiving Dinner. The party will start at 7 pm sharp and will continue till 10 pm at 1234, Barkley St, as you are familiar with the complete address already. We appreciate you bringing your children, for we have arranged a couple of activities to keep them entertained. Moreover, a professional nanny is also hired for the night for our respectable guests' convenience. Please make sure you adhere to the timings and prevent any inconvenience to everyone.
Looking forward,
Richards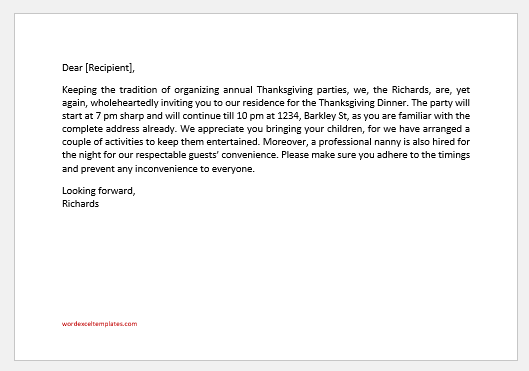 2-
Dear Employees,
The auspicious days of cherishing Thanksgiving are ahead of us, and ABC Solution is all geared up to celebrate it this year in a unique way. After a detailed meeting on the subject matter, the board has decided not to hold an on-site party amidst the second peak of Covid-19.
Nevertheless, we will be hosting a drive-thru event where all the employees will be handed over gift hampers as small tokens of their dedication and devotion to the company because ABC Solution cares for this event's virtue.
The event will take place outside the main gate of the company from 8 am to 5 pm. To ensure you receive your present, please arrive at the given time slot!
Sincerely,
ABC Solution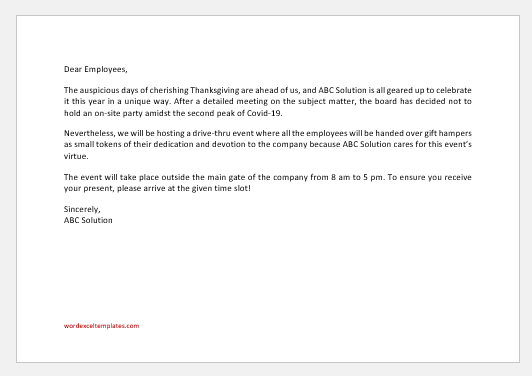 3-
Dear All,
Thanksgiving is the event of sharing and caring for not only friends and family but every individual who has put in any kind of value, little or big, in your life. This Thanksgiving, Skyrocket Marketing has decided to share the event with all its employees who have dedicated a significant chunk of their efforts to the company. Without your devotion, we would never have made it here.
Please accept our invitation to the Thanksgiving Party, held at the company's dining hall at sharp 7 pm, and allow us to pay our gratitude to you!
Sincerely,
Skyrocket Marketing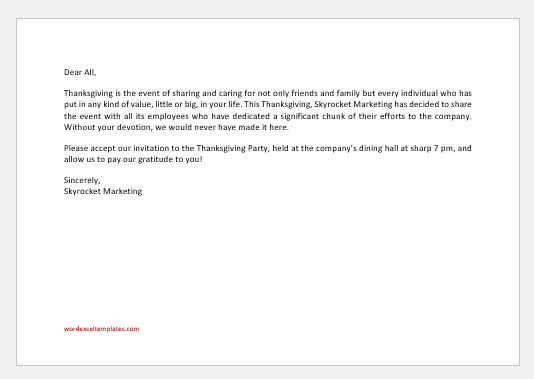 4-
Dear ABC,
It is a great honor for The Simpsons to invite our neighbors on this Thanksgiving Day to feast, enjoy, and invest in each other for the greater good of the community. Let us cherish the delicious food, melodic songs, and pleasurable company from 8 pm to 10 pm.
See you soon!
The Simpsons
5-
Dear Employee,
Given our tradition of throwing a big party at Thanksgiving, we, at the XYZ (the company's name), have come up with a smart way to cherish the event. Since all of our employees have been working remotely from home, the company will be hosting a drive-through party given the virus situation.
All the employees will be given a bonus cheque in front of the main gate from 9 am to 4 pm sharp. Make sure you bring your ID to receive your present.
Let's not allow Covid-19 to engulf our joys and festivals!
Sincerely,
XYZ (company's name)
6-
Dear ABC,
The current peak of coronavirus has swamped all our happiness and hopes, but Thanksgiving is here to remind us never to lose optimism and keep sharing with our loved ones. To carry on this beautiful spirit of the day, we organize a Thanksgiving party at the Central Park at Bay St.
To ensure our precious guests' safety, a social distance of 6ft will be maintained. The event will take place with the same old spirits and activities. Please bless us with your presence at 6 pm.
We request you all to wear a face mask and use sanitizer during the whole event to prevent any chaos. Let's make Thanksgiving 2020 another memorable event for the community.
Looking forward to your presence,
XYZ
7-
Dear Customers,
Unlike ever before, Big Pie is celebrating Thanksgiving this year to bring a smile to its valuable customers' faces in this time of crisis. We will be giving away free pizza to everyone on our drive-through from 12 pm to 9 pm.
To be eligible for it, make sure you download our app and scan the barcode which you will be required.
Note: Only the Westchester franchise is holding this event.
Let us all defeat the virus by caring and sharing for each other!
Sincerely,
Big Pie
8-
To all the sons and daughters,
Your parents are organizing a Thanksgiving party yet again this year at our home to honor the message of the day. There will be everyone's pumpkin and apple pies and a mandatory turkey.
Let us reunite again and thank the almighty God for the countless blessings He has blessed us with and make this a memorable day for the rest of our lives.
Don't forget to bring our grandchildren!
Love,
Parents