Message -1
Christmas holidays are coming. Moreover, the year is also going to end and it is the time to enjoy it at its best with your loved ones. I want to impress you with a surprise gift and this is a good opportunity to show my gratitude to you for this event. I hope that you will like this gift because I have sent it with great love.
May this time of the year bring endless joy and exuberance in your life. I truly love to be in your company. You have charisma in your personality and thanks for being a wonderful colleague to me. The holiday season is just going to start so I am sending you this Santa letter with a Christmas gift. I hope that surely you will like it. Merry Christmas to you. 
Message -2
Hey Elizabeth. Hope everything is well around the corner. I am sending you this year-end message to show my love and thanks to you for being supportive to me throughout my career and being a wonderful colleague and friend. True friendship at the workplace is one of the hardest things to find and one can hardly imagine it. Thank God, I am lucky in this regard.
So finally after a tiresome routine and tough days, the days of merry-making have come and I am just sending you this Santa year-end message. It will add double happiness to your excitement. Santa is all prepared to make your Christmas an energetic one. Get ready to enjoy this event and have a great time with your friends. Merry Christmas to you and be blessed.
Message -3
I am so much lucky to have you as my coworker and it does not matter to me to which cast you belong. You are one of the best people in my life with whom I love to share my every secret. You had played a vital role in keeping balance and stability in the company with your kind attitude and this is what I like about you the most.
I cannot imagine how I could survive if you were not present there to help me. So this is just a little effort and present from my side to send you a Christmas gift and warm wishes. It is also a symbol and token of love from my side at year-end.
Have a whale of a time and make this Christmas memorable by making delicious and mouth-watering food. Merry Christmas to you.
Message -4
Love is something that cannot be expressed in words. It is that spirit which keeps us alive in each other's heart. As the year is going to end so I am just sending you my warm wishes. Christmas is also coming next week and everyone is sending messages and gifts to his/her Santa. So, I thought to send it to my Santa.
You are a hardworking and obedient coworker that makes the workplace worth working. It's been a wonderful and remarkable experience to work with you. I wish that your every day be filled with happiness, contentment, and cheerfulness. True friendship is one of the inflexible and resistant things to find in today's time.
Thank God, I remained fortunate in this regard. May God showers his blessings upon you and your family and you enjoy this Christmas with full health, wealth, and happiness.
Message -5
Hello Macduff. I am Jane your colleague from ABC Company. Everyone was sending messages and gifts to their loved ones, so how I could lack in this regard. This letter is just a reminder to you that you are my Santa and have a very important place in my life. You have taught me in a true sense the meaning of life and I have gotten so much inspiration from you.
You have been a remarkable colleague of mine and in your company, I do not remember how time flies. You have stood by me in every difficult time and always encourage me. We have been friends for a long time and now we are colleagues.
I just want to see your happy face after receiving this year-end Santa message. Lots of love and warm wishes to you. May you always be blessed and stay positive. Merry Christmas.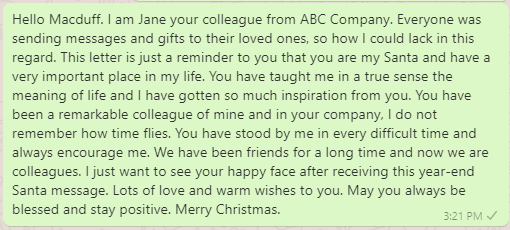 See also: