Salary is an important part of an employee's work. In fact, it may be one of the most important parts. People work to get paid. If they are not paid well then they will not be happy and may be looking for some other job.
What is a Salary Adjustment Letter?
A salary adjustment letter is a letter that states a pay adjustment or change in some employee's pay rate or the net income. The employee's hourly wage can be changed or also their salary. This letter states this adjustment clearly.
If you need to make a salary adjustment letter you can consider the below points:
Microsoft Word– You will be asking for a salary adjustment so you need to do this professionally. You can create this letter in Microsoft Word.
Heading– Give the letter a heading. It can be a "Salary Adjustment Letter."
Your details– You can include your name, address and contact number so that it is easy for the employer to contact you.
Date– After some space, the date can be stated.
Company details– This will include the name and address of the company.
Dear– You need to address the letter to the concerned person. This can be done with "Dear".
Letter– Start off by stating what you want. Say that you are requesting a review of your present salary. You should give your job title and how many years you have been working at the company. Tell the positive points that you have. This can be that you are ready to take on extra work for instance. State that your help to the company makes you a candidate who deserves to get an increase. In the next paragraph, you can tell how your role in the company has changed. Tell what your duties now involve. You can tell your accomplishments in point form so that it is easy for the reader to read them.
Convincing language– The language that you use in the letter must be professional and convincing. You are encouraging your employer to adjust your salary and so you need to tell how you are helping the company and how you are a good asset to them. The employer must want to increase your pay by simply reading the letter.
The salary adjustment letter has the following advantages:
Allows an employee to professionally ask the employer to adjust their salary.
It can be kept as proof that the employee asked for a salary adjustment.
The employee can keep this letter and consult it when needed.
The salary adjustment letter is a letter that should be made carefully because you need to convince the employer to make a good adjustment to your salary. If you do not do this correctly then you may not get the pay increase.
The employer will also remember that you asked for one in a rude way. Therefore, be careful with your words when you are making this letter.
Sample Letters
Letter -1
I am John Meezo, Junior Manager in the HR department. I have been working for XYZ for six years. I humbly request you for a salary adjustment.
My current pay is $[AMOUNT] along with one annual bonus. Considering my hard work for the organization, I feel I deserve a raise. I have been working as an efficient and professional employee and have delivered multiple successful assignments during these six years of my service. In addition, I have also been filling in for the Senior Manager during his absence. I would really appreciate if you acknowledge all my contributions and consider my salary adjustment request.
I eagerly wait for your response.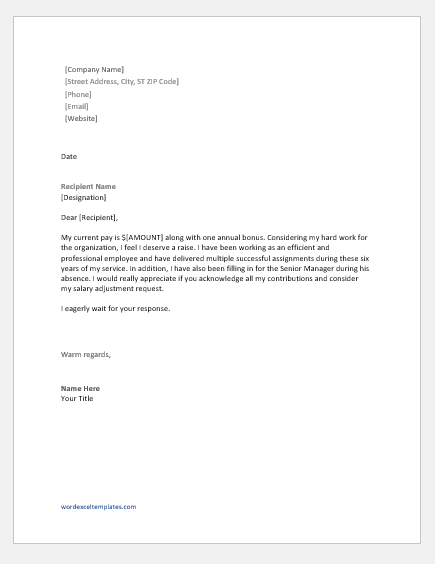 File: Word (.docx) 2007+ and iPad Size 26 Kb |
Download
---
Letter -2
ABC Corporation congratulates you on completing a decade with us. We appreciate and acknowledge your services. You are being offered a salary adjustment. The company has given you an increment of [AMOUNT] for your basic salary along with an additional $[AMOUNT] for fuel charges. This adjustment will take place with effect from 25th September 2021.
We hope you continue to serve us with the same dedication and loyalty. It is an honor to have you as a part of our team.
Once again, congratulations on your achievement.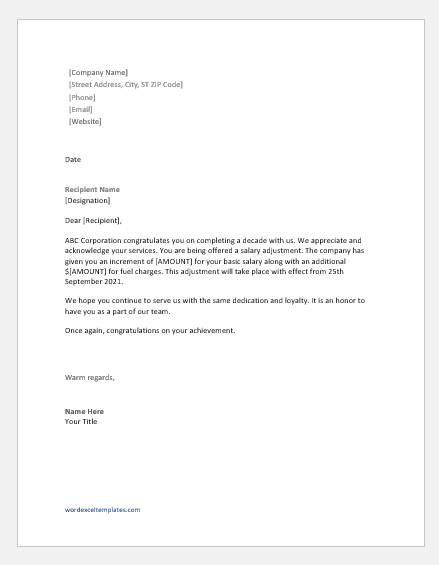 File: Word (.docx) 2007+ and iPad Size 26 Kb |
Download
---