Letter requesting an outstanding bill is a document written by a business owner to its customer requesting to pay the amount due as a result of the purchase of a product or the services hired. A business can also write this letter if a partner has lent some money and is not returning as per agreement.
In certain situations, when the amount lent by the lender is past due by a certain date at which both parties were agreed upon, he will request the creditor to pay the outstanding amount in a polite way.
Living in society, we sometimes lend some money or credit it to somebody. Whatever the situation may be, there must be a due date of payment upon which both parties should agree upon. Meanwhile, it is important thing to have an eye on the installments in order to avoid the inconvenience which may be caused by an outstanding bill.
As a business owner or a service provider, you may come across a situation when you have to remind a customer to pay the due amount. Certain customers, owing to their financial problems or non-responsible attitude, neglect this payment even when the due date has passed. They may simply forget to pay the overdue amount otherwise.
This is a real panic for a business owner, and he goes away with it by writing a letter to the customer requesting the outstanding bill. This is done in the form of a request made in a gentle and polite way.
Writing such kinds of letters is a good way to avoid the dispute between two parties caused by the payment that has passed due. Before forwarding a request to the customer, the following elements must be made a part of the letter:
Starting of your letter must be accompanied by a clear statement of your purpose. The customer must know why this letter is being written to me.
One must keep his tone polite while requesting the customer about the overdue payment.
Inform him about certain consequences he may face in case of further delay.
The ending of the letter must be done in a friendly way.
Sample -1
Subject: Request letter for outstanding bill
Dear Sir,
With reference to the subject cited above, I am directed to inform you on behalf of my company that an outstanding balance of $1000 is lying unpaid from your side as being indicated by company records. The due date has passed, and we have not received this payment yet. For your convenience, a copy of the invoice is enclosed with this letter.
If you think that you have paid the said amount, ignore this letter, and accept our apology. Otherwise, pay it that has been past due by 15-05-20XX. You are further informed as per our written agreement that if your outstanding balance stays longer than 30 days, you will have to pay an extra 10 percent of that amount.
I hope you will cooperate with us and make the payment at your earliest convenience.
Regards,
Anderson.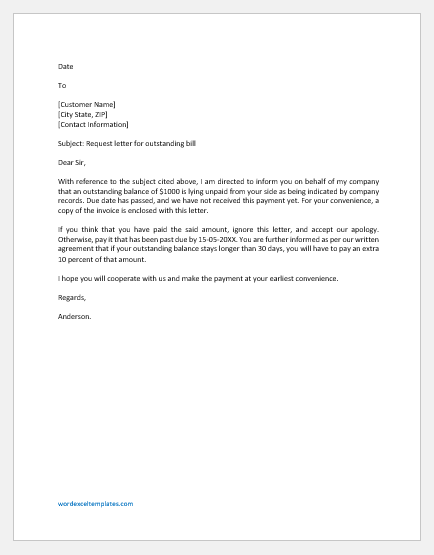 File: Word (.docx) 2007+ and iPad
Size 22 Kb |
Download
---
Sample -2
Dear Sir,
I am writing this letter as a request to remind you about an outstanding amount of $1000 that is yet to be paid. As per our records, this amount was to be paid by the 1st of May, 20XX but we have not received it yet. We are pleased to provide you 15 more days to clear your outstanding amount in order to continue with our services and facilities.
If you still think that you will not be able to pay this outstanding amount by the stated period, talk to us about the idea that it is more convenient for you to pay the amount. We can further extend the due date by 15 days or facilitate you in terms of installments to make your outstanding balance clear. Whatever suits you best, let us know as soon as possible.
Regards,
Watson Lee.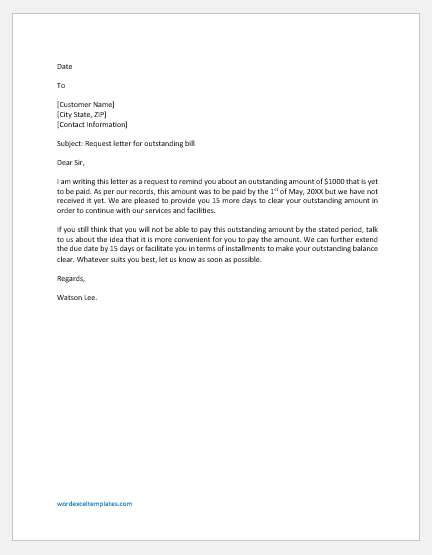 File: Word (.docx) 2007+ and iPad
Size 21 Kb |
Download
---