What is a request or apply for a credit account?
It is a formal type of request letter in which you speak to a company and ask for politely opening a credit account. Since it has been named as a request letter, politeness in the tone is the key. Whenever you need any kind of favor or want to apply for something, you will need to write a request letter.
Why write a request for opening a credit account?
People want to open credit accounts with a business from where they purchase products or services frequently. It becomes really hard for us to manage to pay the service provider in the form of cash because of the unavailability of cash. To get rid of this situation, most businesses open a credit account with other businessmen.
This credit account enables them to buy products and services without needing to pay the other party on the spot. They can pay via their credit card and pay the whole amount later with interest. Asking for opening a credit account is like applying for a loan and therefore, you are required to write a request letter.
How to write a letter while applying for a credit account?
When you write a credit account, you should be sure of what to write. Many people don't like writing this letter because they fear that their request might get a rejection. This fear needs to be overcome. For this purpose, we are going to tell how the request in an efficacious way can be drafted.
Write directly:
The request to open a credit account is usually written to a business or a person involved in business activities. No matter who you write this letter to, it is important to stay brief and direct. Of Course, you are not writing to your friend or a family member. So, there is no need to use an indirect approach and make the letter lengthy. All you need to do is start the letter and immediately make the request to open the credit account.
Provide a reason:
Tell the recipient why you want to open a credit account with him. For example, many companies are working and providing services in the same domain. Explain why you chose the one you are writing to. While writing this part of the letter, you can admire the services of the business. If you are an old customer, take advantage of it and mention it in the letter too.
Tell the credit amount:
Tell the recipient how much he can expect to sell to you on credit. Also mention when you return.
Mention the benefit of the recipient:
If you are ready to pay the credit with interest and believe that it will be a very profitable thing for the recipient, tell him.
Sample letter:
Date:
Sender's name
Address of the sender
Contact details of the sender
Recipient's name:
Address of recipient
Recipient's contact details
Subject: request for a credit account
We have been getting the services of your company for our transportation company for more than 10 years. We have always been so happy with the quality of the work your company always provides to us. Considering this, we would like to purchase your all services in the future also. Our workers have approved your company and they trust in the work you do. We would be getting the car services for our transportation company worth 1000 USD every month. However, we would like to buy your services on credit. For this purpose, we would like to request you to open a credit account with your business. We have read the terms and conditions of opening a credit account with your business thoroughly and we have agreed with all of them.
In case you have any reservations, you can see our credit history attached. You can call the bank and know the authenticity of the enclosed document. Furthermore, we will be very happy to write a formal application for a credit account with your business. We are looking forward to hearing from you very soon.
Regards,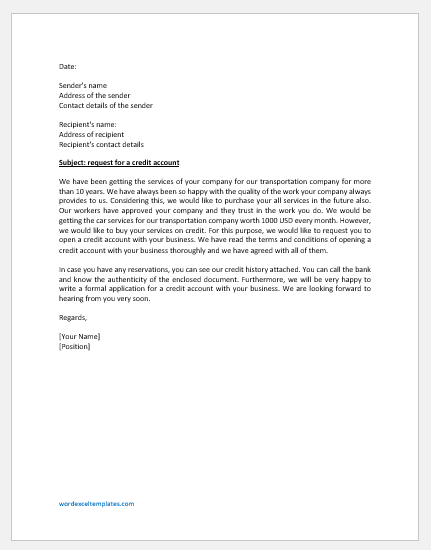 File: Word (.docx) 2007+ and iPad
Size 22 Kb
Download
---