Introduction
What do you think a company or organization expects from a person when it hires him/her? Performance and output is the answer. An organization would reach the plinth of success, only if each person involved in it is 'performing'.
Performance is a very wide term with a prodigious meaning, it includes all the details and aspects related to an organization. Performance varies from one organization to another.
Achievement of a given target is very important, which is considered while evaluating performance. The work of every employee is under observation, and if there are repeated cases of the person under-performing, a warning letter for poor performance is issued, so that the employee amends himself/herself and performs in a better way.
Use of the Letter
Poor performance does not always demand a firing action; if you know that the employee has the capacity to perform well, it is important to give that person a chance to show and proof his/her worth even if he/she has disappointed you previously.
Tips on how to write the letter
A letter of concern is written by the /manager/director of the department to an employee who has not been performing well as a mean for motivation.
Letter of concern can be considered a warning to an employee. When an employee receives a letter of concern, he/she spontaneously understands that there is a need for him/her to change his/her behavior towards his/her work and poor performance.
Since poor performance can transpire for many reasons like inability to understand project goals, personal problems or general incompetence, therefore, it is very important to mention and address the right issue when writing a letter of concern.
One can also invite an employee to initiate the dialogue to settle the issue through the letter of concern.
Extra precaution and special care are necessary while writing the letter of concern to an employee for poor performance. Neither should it be too harsh in the use of words nor should it be too light and casual.
The letter should serve the exact purpose for which it is written, i.e. it should be a warning which brings the employee back on track.
Sample Letter of Concern for Poor Sales Performance
Harry Parker
Virtual Sales Limited
Afon House, Worthing Road, Horsham RH12 1TL, United Kingdom
07-08-2018
John Johnson
Sales Manager
Sales Department
Subject: Concern for poor sales performance
Dear John Johnson:
I was in the process of looking through the weekly sales reports dated back to April 2018 and was astonished and alarmed to see that your department has not met sales targets between April and July 2018.
As you know, [Company]'s existence in Horsham (since we are just 2-year-old) depends highly on not just meeting but exceeding the sales targets that we have been provided with. Failure to do so can result in the company in deciding to close the venture which can have catastrophic effects on our jobs and obviously the company's reputation.
Taking the liberty to interview some members of your team before writing this letter of concern to you, I have determined that you have been continuously vanished during work hours, as one of your underlying states. Such kind of behavior is unacceptable.
This letter is to inform you that in the coming months your performance will be under strict scan, and a final decision will be taken after considering your performance in these months. The company expects you to perform and contribute to its growth.
I am available to talk or discuss any issues that you may have so you can contact me at any time of the day. I will appreciate open-mindedness from you so that we can resolve this issue as soon as possible. We need to get back to our feet so that we can exceed targets and bring [Company] to a whole new level.
Sincerely,
Harry Parker
Director Sales
Virtual Sales Limited
Tel: (111) 111-1111
Email: [email protected]
Sample Preview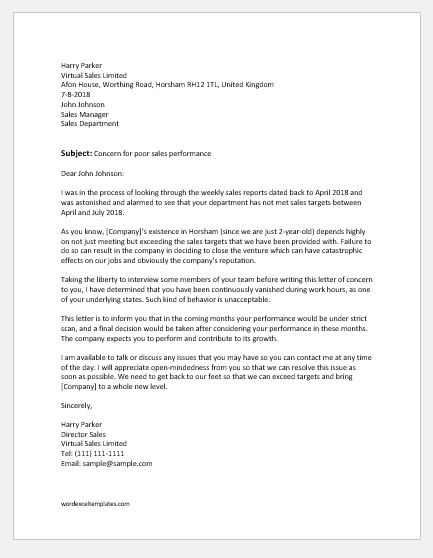 MS Word [.docx] | Download