The job offer acceptance letter reply is a letter written by a candidate who has been selected for a job s/he had previously applied to. It is addressed to the employer of the organization, who has offered the candidate a certain position by sending a job offer letter. This letter is usually written after receiving a job offer letter, and in this letter, the candidate shows his gratitude to the organization for hiring him and informs it about his acceptance of the job offer.
Sometimes, this letter is a mandatory document to send to the employer. On the other hand, many employers may not require it, but the candidate would still send it to show courtesy and gratitude.
Usually, the letter is:
concise and comprehensive.
should be written professionally and formally.
need to have a tone that shows gratitude.
should clearly state the acceptance of the job as well as the related terms and conditions.
The job offer acceptance letter reply may, sometimes, contain the details of salary and contractual period, or it may simply state the acceptance and show thankfulness. The variation in the content is dependent on the type of job, type of contract, employing organization, and candidate. However, the general details included in such letters are:
Date.
Details of the candidate.
Details of the employer.
Reference to the job and offer.
Acceptance of the offer.
Reference to the contractual terms and agreement to them.
Indicate what you are looking forward to learning on the job.
State that you will contribute to the company.
Show gratitude for the opportunity.
Ask if any more documentation is required.
Salutations and signatures
When an employee receives a job offer letter, he needs to communicate his consent or refusal to the employer. One, because a professional attitude requires a response to a job offer; and second, if, for example, the candidate does not want to get on board, the employer would know in a timely manner to search for another candidate. Likewise, if he wants to accept, he needs to inform the employer on time as well, so that the employer will not look for another candidate.
As the contract is sometimes signed between the employee and employer after the employee formally joins in, this document, along with the job offer letter, becomes the basis of the employee's association with the company.
After receiving a job offer letter, some candidates deem communicating their consent verbally, e.g., over the phone, enough. However, providing a job acceptance in writing should always be a preferred option, as it can be kept as a record and can be referred to if needed.
Sample Letters and Emails
#1
I am pleased to inform you that I have accepted your Marketing Assistant job offer. It will be an honor for me to join your team, which ranks at the top. I am grateful to you for giving me a chance to serve you. As an employee, it will remain my priority to contribute to the organization's success. I will have a healthy relationship with my colleagues and the organization. I am satisfied with the mentioned salary and other health benefits. I will join officially on [mention date]. You can inform me if any formality is essential for documentation before joining.
#2
We had an amazing talk on [mention date], where you talked about the role of Assistant Manager in your corporation. I am writing this letter in response to your job offer. I take pleasure in announcing that I have accepted your offer. I am anticipating starting my career with you and your enthusiastic workers. I believe it will open new pathways for me.
As per the contract, my job will start on [mention date] with a negotiated salary. I am excited to join your team. Please inform me through email what other documents are required for joining. I thank you again for offering me this amazing elbow room.
#3
This email is in response to your job offer as an accounts manager. I am enthralled to let you know that I am ready for this position. Working for your company has always been a dream for me. I have read all the terms and conditions mentioned in the documentation and agree to accept the $80,000 annual pay offer. According to the letter, I will attend office from [mention date]. This would be an adventurous journey for me to work with your amazing team.
I feel blessed that my career is taking initiative under your supervision. I will consider it my responsibility to satisfy you with my expertise. I assure you that my work will contribute to the company's progress. You can contact me through the email provided for your convenience.
#4
I hope this email finds you in sound health. Please accept this message as a thank-you note on account of my acceptance of your job offer. I will be pleased to work as a project manager for your enterprise. I solemnly agree with the employment conditions and sign the agreement with your organization. I will bring the required documents on [mention date]. I believe that my professional abilities will be polished by working with you. Kindly inform me if you need additional information before officially joining.
#5
I feel delighted to be writing this letter to you, as I am overwhelmed with the financial adviser position you offered me. We had a detailed talk about it on [mention date], and after thorough consideration, I am willing to accept your offer. Working with you will add value to my professional career. I will be joining on [mention date], and as per the company's policy, I will be entitled to enjoy the benefits of a regular employee.
I will visit you on [mention date] to discuss my salary. I am thankful to you for giving me this offer. I assure you that I will perform my duties honestly.
#6
This email has been written to endorse the job recommendation starting from [mention date]. I am extremely happy to offer my services as a corporate manager at ABC Organization. I am familiar with this role, and I am confident that I can execute tasks magnificently. I cannot thank you enough for offering me this opportunity. I will add consequential benefits to the organization. I have submitted all the documents essential for joining.
I appreciate your trust in me, and I will never let you be disappointed. Can you please inform me of other things I should bring on my first day of joining? Thank you once again for giving me this wonderful opportunity.
#7
I feel pleased and grateful to write this letter and accept the great opportunity that you have offered me. I am eager to join this wonderful company, XYZ Limited, as an Assistant Sales Manager and raise my learning curve. I look forward to gaining experience and various skills. I ensure that I will put in the best of my efforts and try to valuably contribute to this company. I thank you for giving me a chance to prove myself as well as a direction for my career path.
I have read and agree to all the contractual terms and clauses. I am sending you the signed contract with this letter. As discussed, I will be joining on November X, 20XX. Let me know if you need any further documents or information.
Thank you again for the offer and consideration.
Regards,
James Wilson.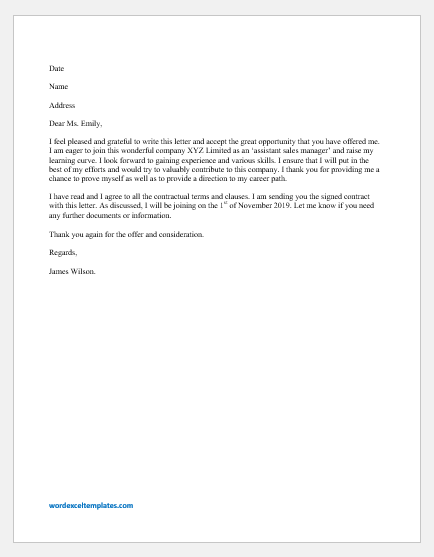 File: Word (.docx) 2007+ and iPad
Size: 20 KB