What is immediate resignation letter?
Employees in a company are required to give prior notice to the employer when they want to leave the company. However, there are some situations in which the employee writes immediate resignation. This resignation does not have any notice period and conveys a message to the employer that the employee has to leave the company immediately.
Writing immediate resignation due to COVID-19
People often feel the need to resign instantly when they come to know that they have contracted COVID-19. We all know that COVID-19 is a highly infectious disease that spreads from person to person even by touching. Therefore, one needs to be careful living with COVID-19 to not let it spread.   
When someone has caught Coronavirus, he/she should not visit the office even once. It is better to stay in isolation. Some employees apply for sick leave when it is brought to their knowledge that they are COVID positive. But, sometimes the company cannot afford to give sick leave and therefore, wants to hire an immediate replacement. In this situation, the employee himself decides or the company asks him to write the resignation letter that will be effective immediately.
How to write a goodbye letter without any notice?
Everyone working in the professional world knows that it is eminently important to inform the boss and give prior notice while communicating their decision to leave the workplace. When a worker leaves the company by giving a notice of one or more weeks, he actually manages to maintain a professional relationship with this employer. This becomes helpful for him for future references and recommendations.
This life is unpredictable and sometimes things drastically change to the extent that they require us to behave in a totally different way. Sometimes we do not remain in the position to resign with the notice. Rather, we say goodbye without notice. Even if we have to do that, we should be careful as to how we write and what level of courtesy we show. Follow the tips given below and write an effective letter:
Read your employment contract carefully:
You must have read and agreed to all the terms and conditions when you joined the company. If you don't remember, go through the contract again and see what it says about the situation when you have to resign right away. This will enable you to decide what you should do and how.
Talk to your manager:
Since you contracted have Coronavirus and it is not possible for you to visit the company, talk to your manager on phone and tell him that you have decided to resign because of your health issues. You have a genuine reason to leave and it is quite possible that the manager will understand your situation.  
Be grateful:
In the resignation letter, don't forget to show gratitude to your boss. This will you will be able to tell your boss that you don't have any complaint from the work and you are leaving because of your health which is deteriorating due to COVID-19.
The sample letter given below is helpful for writing a letter to resign from the job immediately
Sample letter:
Date:
Subject: Resignation due to Corona Virus
Respected [NAME],
I am writing this letter to let you have to I am resigning immediately from (mention the company's name) from (mention your position in the company) as of (specify the date of your departure).
I am feeling so much regretful for not being able to give you a notice that I was supposed to be giving in normal conditions. I am going through serious health complications because of contracting COVID-19. Due to this, I feel that I must leave my job instantly. I have enclosed my latest medical report with the letter.
Please let me know the remaining balance and how I can collect my paycheck from the company.
I am thankful to you for providing me with the best opportunities to work under your supervision. You have really helped me grow in my career.
Regards,
Sender's signatures
_________________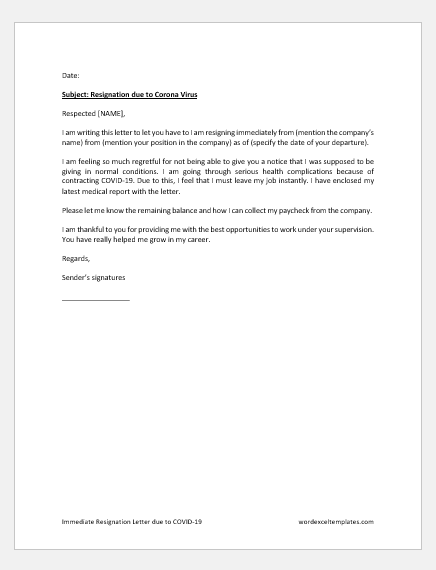 File: Word (.docx)
Size 22 KB