Experience letter for accountant
Ref. No. 126-MK-2020
22-04-2020
To whom it may concern
It is certified that Mr. Neil Johnson was appointed as an Accountant at our company. He worked with us from 01 July 20XX to 31 May 20XX in the same position.
As an accountant, he tackled all types of related work. He has a strong command over accounting techniques and we never found any mistake in his work. He prepared and managed the accounts of clients, managed the working of bookkeeping, liaison between the company and potential customers. Moreover, he had an excellent command over the usage of language therefore, he always communicated with clients in an effective way both in oral and written. While doing assigned tasks, he always monitored deadlines. Similarly, he was well versed with excellent accounting skills, and owing to this property, he always assisted the audit department for the preparation of draft accounts, annual audits, management accounts, and year-end accounts.
Throughout his stay with us, he exhibited an exceptional level of communication with clients, management, and staff members. He could be integrated with anyone at any level of work. His attitude towards the organization and handling different types of assignments was professional and he was a good member of our accounts team.
I wish him best of luck for his bright future.
Managing Director
Michigan Financial Services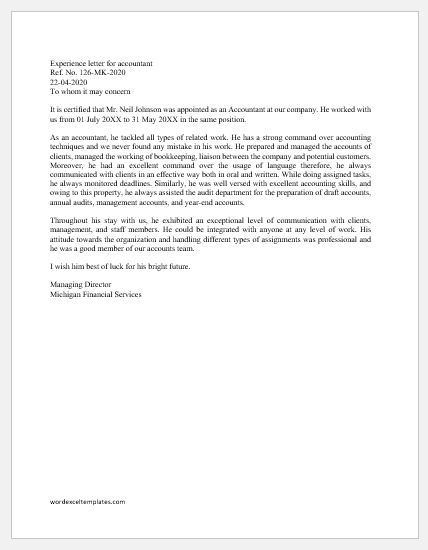 File: Word (.docx) 2007+ and iPad Size 17 Kb |
Download
---
Sample -2
Experience letter for accountant
Ref. No. 125-RK-2020
22-04-2020
To whom it may concern
It is certified and informed, whomsoever concerned that Mr. David Shastris has been working as a permanent employee with an Eastern group of companies as an accountant in the audit department from 1st July 20XX to 31st May 20XX as indicated in his personal files and witnessed from company record.
As an accountant, we found him professional, hardworking, and knowledgeable. He has a practical understanding of accounting procedures. He is well versed in accounting techniques and procedures such as managing the accounts of clients, bookkeeping, cash record, file maintenance, drafting, account statement, etc. He delivered in an excellent whatever task was assigned to him. Once he was also sent abroad for professional accountant development training where he completed the training successfully.
He has been gifted with the best personality traits such as a good sense of humor, a friendly attitude towards his mates, result-oriented, and most important of all, the best team player as demanded by the higher authorities. Overall, Mr. David performs his duties professionally and shows a great zeal towards work. With all the above-mentioned qualities, he will definitely prove himself as a valuable asset to any organization and we wish him the best of luck for his bright future.
CEO
Neso Group of Industries
Monaco, LA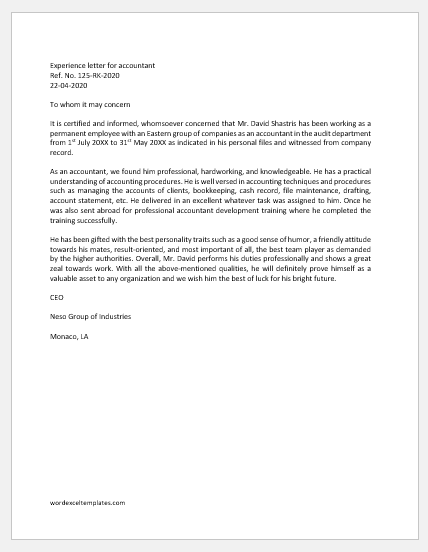 File: Word (.docx) 2007+ and iPad Size 22 Kb |
Download
---