Studying and living away from the comfort of your home and parents can be very difficult but almost every individual has to encounter such a situation in their academic lives. Although dorm rooms have been an essential part of a student's life they are decorated and organized according to their liking.
A dorm room, also known as a dormitory, is the place where students live on campus. These dorm rooms are like hostels and are assigned to students based on merit. Some students live in pairs while others may choose separate accommodations. A dorm room checklist refers to all the essentials that a student might need while staying in a dorm room. Enlisting every item makes it easier for students to remember and pack them.
The dorm room checklist includes from the smallest to the biggest items. Usually, in a dorm room, students are provided with a bed with a mattress and study table. All other items are brought over by students and removed after their time in the dorm room is over. Some of these essentials include,
Bedsheets.
Pillow
Pillow covers
Cushions
Comforters or all other sorts of bedding materials are managed by students.
Storage boxes for storing items during off-season
Laundry baskets
Curtains for privacy.
Table lamp
Extension cords
Computer or Laptop
Backrest for chair
Stationery (pen, pencils, notebooks)
Table organizers
Clothing
Toiletries (shampoo, conditioner, toothbrush and toothpaste, shaving cream)
Sunblock
Towels
Electronic gadgets (hair dryer, curling rod, razor)
Mirror
Detergents
Iron
Broom
Mop
Cleaning supplies
Although a common kitchen area is for all students, therefore, students can bring items for cooking themselves a meal. These items include,
Plates
Cutlery
Mini Refrigerator
Bowls
Microwave-safe containers
Mugs
Water bottles
Kettles
Snacks
Dorm rooms can be decorated with personalized items like,
Posters
Pictures
Trophies
Rugs
Decorative cushions
Mobile
Charging stations
Laptop
Earphones
ID card
Passport
Previous academic degrees
Certificates of appreciation
Dorm rooms are usually vacant and do not have enough space for storage so only ongoing season items can be placed while other items are kept at home. To ensure a home-like feel from dorm rooms, students prefer to personalize their space with their favorite things.
Significance
The dorm room checklist proves to be of paramount significance due to the following reasons,
It enlists all items that a student might need thus, helping students in packing and being prepared.
Enlisting items helps in checking off items that have already been accounted for.
These lists can be shared with other students to help them in packing.
While clearing out dorm rooms, everything can be packed while viewing the checklist.
It keeps a student prepared for any unforeseen circumstances.
Dorm room policies differ from one dormitory to another therefore, students must familiarize themselves with all rules and regulations. Many dormitories do not allow students to have the following things,
Pet animals
Smoking
Tattoos
More than 2 piercing
Cooking meals in dorm rooms
Keeping electronic gadgets
Keeping room refrigerator
Therefore, it will be helpful for the student to know about their dorm rooms and their room partner before joining so that they are mentally prepared.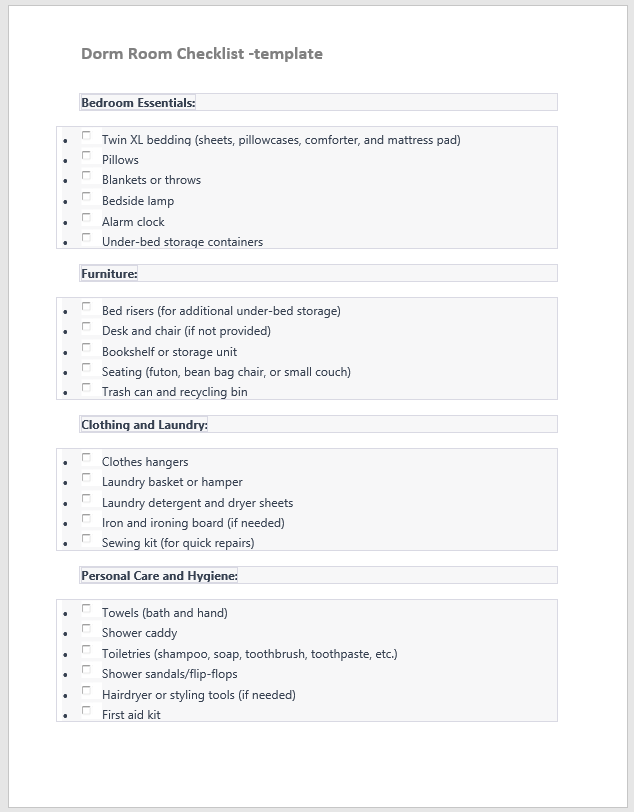 The checklist file size: 98 KB