Planning a wedding is no easy task. This is especially true if it is your daughter's wedding. There are many expenses that you will face and it is easy to go beyond your budget. This will cause stress and complications. Therefore it is a good idea to plan the wedding by creating a daughters' wedding budget sheet.
What is a daughter's wedding budget sheet?
A daughter's wedding budget sheet is a tool that the mother of the bride can use to let her get an idea of the expenses that will be faced for her daughter's wedding. It will help plan the wedding by including what is needed and the cost of this.
Daughters' wedding budget sheet importance:
The budget worksheet is important because it can help one plan a wedding effectively. Weddings are expensive and when one does not plan this carefully, they can exceed their budget. This will cause problems and it will be tough to make up for the costs. With the help of a budget sheet, you will list down what is needed for the wedding and how much this will cost. You can then make a realistic budget and choose to have some things whilst omitting others. You will then be able to plan the wedding and not spend beyond your means.
Who can design a daughter's wedding budget sheet?
The mother or father of the bride will be the one who will design the wedding budget sheet. If their daughter has told them to plan the wedding, the budget sheet will help them do this properly. You will not disappoint your daughter when you have planned everything carefully and do not spend more than you can.
Tips to design the worksheet
If you need to design a daughter's wedding sheet and do not know how to do this, you can consider the following tips:
Select the correct application:
If you are able to choose the right application to make the budget sheet in, you can end up creating something that will be simple to read. This is important so that you will actually use the budget sheet when planning the wedding. You will need to create tables so Microsoft Excel can help out here. You can pursue any calculations and make tables according to different headings.
To-do list and necessary expenses
You can create a to-do list so that you do not miss out on anything. There is much involved in planning a wedding and with a to-do list you can avoid ignoring important stuff. In the necessary expenses list you will include what is required for the wedding.
Here you can include your guest list, a place where the ceremony will be held, the wedding cake, wedding attire and beauty, photography and videography, music and entertainment, etc. When you think about anything you can include it in the list so that you do not forget about it. You can then include these points in different tables with their cost of them respectively.
Format of budget sheet:
The format should be one which will let anyone who reads it be simple to read. You will have different tables. The budget sheet will have a heading like "Daughters' wedding budget". The tables can include headings like "Expenses for wedding". On this table, you will include stuff like attire, rings, flowers, gifts, photography, hair, and makeup, etc. You will then give the estimate and the actual amount of all the items. The table can then have the total expenses for the wedding. There may be sub-tables after this concerned with the main items in the first table.
For example, on the attire table, you will give the costs of a wedding dress, shoes, jewelry, etc. A table of the wedding budget summary will include the total funding you have and total expenses. A detailed table like this will let you plan the wedding by including everything needed for it. In this way, you will not be faced with any unexpected costs.
If your daughter is getting married, you will be excited and probably nervous. This is especially if she wants you to help plan the wedding. To make everything go smoothly, you can plan it carefully with the help of a wedding budget sheet.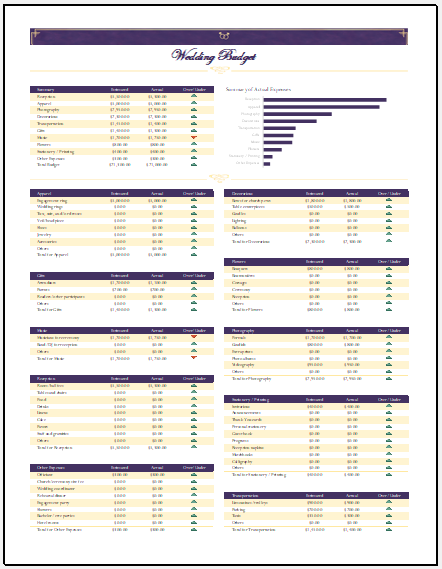 Excel Budget Worksheet 91 KB