If the contract with the vendor you have been sharing strong and professional bonds with, is going to be expired, you have two options: let it end or renew the contract. Just as the contract was a mutual agreement between you and your vendor, the renewal is also based on mutual consent. Mostly, vendors want their buyers to show a willingness to renew the contract. However, it completely depends on the professional attitude of the seller and the quality of products he has been selling.
What is the contract renewal letter to the vendor?
If you are ready to extend the contract with the vendor and let him know about it so that he continues providing his services, you will be required to write a letter to him which is known as a contract renewal letter.
Basic guidelines for writing the contract renewal letter:
Follow the instructions given below to come up with an effective piece of writing:
Outline the reasons for renewal:
Choosing to work with the same vendor for some more time can be a crucial decision. You should be very cautious before taking this decision so that you don't get yourself into trouble. Ask yourself why you want to work with that vendor again? If the vendor has requested to renew the agreement and you are now pondering over it, read his request letter and see what information he has provided.
Read the terms contract thoroughly:
Renewing the contract is not as simple as someone might think. It takes some legal procedures and lots of considerations to prolong an agreement. You cannot go against the contract to renew it since it is regarded as an infraction. First of all, read the terms of the contract to know if you are allowed to renew. You can only write this letter if your agreement with the seller allows you to do so.
Start the letter with your decision:
It is a formal letter and the reader is generally not interested in conventional approaches or formalities. So, come straight to the point and let him know about the decision you have made. Here, you should target the agreement signed by mentioning the date of signing and expiry.
Be clear:
While you state this information, make sure that you elaborate it and let the reader know about your decision. Sometimes, to be clear, you have to discuss everything comprehensively. So, discuss the agreement that was previously signed and then let him know about the expiry date approaching near. There should not be any ifs and buts in the letter that can cause confusion.
Let him know about the alterations:
Sometimes, you want to renew the contract but you also want a few terms and conditions to be changed. For instance, you might want to change the duration of the contract this time. Whatever modification you want, discuss it in the letter. For making it clearer, refer to that specific clause that you want to be changed.
If you think that the vendor might not be comfortable with these modifications, you can offer him to make you a call or write back to you with insecurities.
Tell what you expect:
The extension letter generally tells the vendor that his clients or customers are expecting a lot from him and this is the reason; they want to extend the bond. Outline that you are expecting the seller to work the same as he has been working since the first time, he signed the agreement with you.
Download the template:
The template is a useful tool to write an extension of an agreement letter especially when you want to get away with the pressure of outlining a letter that has effectively elaborated everything you wanted to communicate. The template has a pre-formatted letter that does not need so much hard work and consideration of the person writing this letter.
However, one should keep this fact in mind that every letter has different details depending on the situation in which it is being written and the template may not be able to accommodate it. So, whenever they find a template, they should read it and think of all the modifications they might need.
Sample Letter
Dear Mr. [name]
I [name] [designation] from [company name] am writing to inform you that we have decided to renew our contract with you. Our building company firmly believes in delivering our best to the customers and for that, we need the best materials available in the market.
You have been our trusted supplier for the last [number] years and the quality of wooden doors and cupboards supplied by you, have always been excellent. Due to COVID, the country went under lockdown and building activity stopped almost completely which is why we did not renew our contract with you last year.
As the market picks up after this difficult period, building activity has increased manyfold as old projects are being completed at an increased pace and new ones are starting every day. The requirement for good building material is now even greater than before and since you have earned our trust through your first-rate service all these years so, for wooden doors and cupboards and all the woodwork in our buildings we cannot think of anyone else we would rather go to. Hence, we would like to renew our contract with you.
We are attaching the details of the contract with this letter. In case of any queries, please feel free to contact Mr. [name] from our [department name] at [phone number] or through email at [email address]. Looking forward to a mutually profitable working relationship in the future,
Yours sincerely,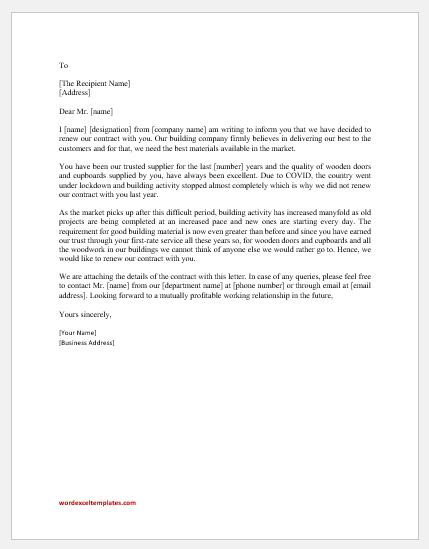 File: Word (.docx) 2007+ and iPad
Size 16 KB