The last few years of school are really important and confusing for a student. The school life is about to end and we have to leave our friends and move on with our lives. For most of the students, it is a very hard phase to leave school and adjust to college life. And with the fear of entering into a new life comes the fear of choosing between careers. Hence, most of the students joining college and which college could be one of the hardest decisions.
With more people going to colleges, the job market has become very competitive. So if a student aims to get a good job, he/she needs to have a college degree. Previously economies that were more dependent on business have turned into economies heavily reliant on knowledge and education. Not just you are earning a degree in college, you are meeting experts from different fields who will not just share their knowledge with you but they will also share their lifelong experiences which are more important for any student.
This experience sharing encourages the students to ask questions, search for reality, and look into new areas. A college education provides a good way to connect with new people. These connections not only help to get away during the college days but these connections can be useful later while job hunting.
No one can deny the importance of college education. But that college education also depends on the choice of the college that a student makes. Just picking one college doesn't seem to be a good idea. Rather students should search for more than two options. The first fact to consider while picking up a college is to decide whether you want to go for a two-year course or a four-year course. Many students pick up a two-year college degree and then pursue a four-year course.
Deciding the location of the college is also very important. Some students choose a college that is close to their home. It saves up travel costs and time as well. But with some students, they can choose to live on the campus and stay away from home. Staying away from home can provide a good experience for most of the students.
Comparing colleges can be a daunting experience. But with the help of a college comparison worksheet, it can be made easy. The sheet can easily compare the data from five colleges or even more. The students can fill the sheet the way they want. The sheet provides the data about college like the address, ranking of college, contact information, application deadlines, and the final results.
Preview & Details of Template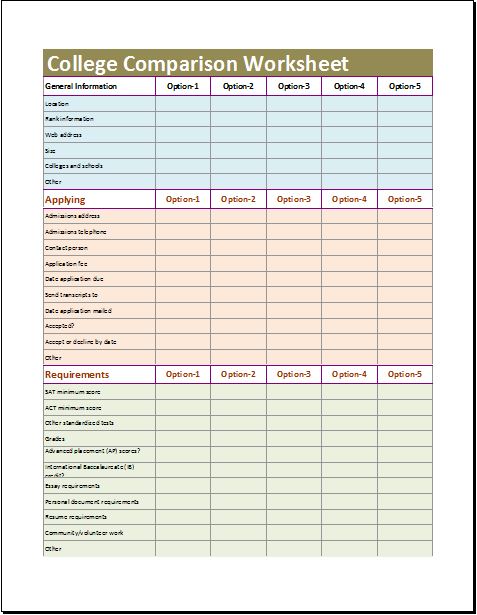 File: Excel (.xls) 2007+ and iPad
Size 42 Kb
Download
---