Regular attendance is necessary for success. According to Tyra Banks, it is so important to understand that your good attendance increases your chances of graduating. Student's attendance record is very important for good academic performance and achievements. Daily attendance is very important to follow the daily lessons and class discussions. Daily classroom activities play a great role in a student's life.
Those students who attend their classes regularly show better results and enjoy the student life at their best. Quality education depends upon good attendance. In the long run, it makes the student punctual for his or her whole life ahead. This makes the student more responsible. And a society can have a more responsible citizen in the future.
Regular attendance record gives the best opportunity for success in the student's practical life ahead. On the other hand, those students who do not attend their classes regularly lack confidence and are left behind in every sphere of life.
Their teachers and parents are not satisfied by them and they complain regarding their behavior. Those students who do not attend their classes regularly mostly spend their time in other useless activities. In other words, they spoil their future and deceive themselves. It is the duty of the parents to keep an eye on the activities of their children and try to maintain their educational life.
The attendance record of a student also depends on the environment of the institution. The strict environment is necessary for discipline and good attendance. But sometimes it can also cause frustration and anxiety among students. They try to escape from that kind of environment. In this frustration and anxiety, they do not attend classes regularly.
We can overcome this situation by introducing some co-curricular activities so that it can develop an interest in students and their attendance record can become better. Moreover, it can make the bond between the student and the teacher strong. Various steps have been taken in educational institutions to improve the student attendance. New subjects and innovative methods of teaching have been researched and implemented to keep the millennials interested in the subject and do well.
Daily, weekly and monthly attendance sheets are a very handy tool to keep a record of students attendance at regular intervals. The attendance sheets provided here are an excellent tool for the teachers and academic supervisors to prepare an attendance record for any student in a comprehensive way. Download and customize these sheets as per your convenience.
Preview & Details of Templates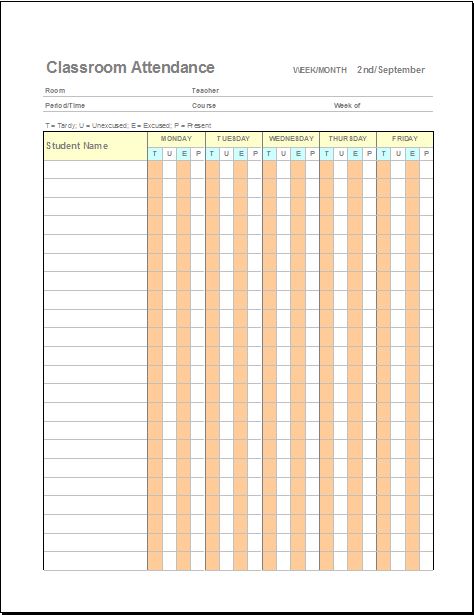 Weekly Classroom Attendance Sheet
File: Excel (.xls) 2003+ and iPad
Size 36 Kb   | Download
File: OpenOffice (.ods) Calc [Cal]
Size 13 Kb   | Download
Distribution by Kate Elizabeth(CEO)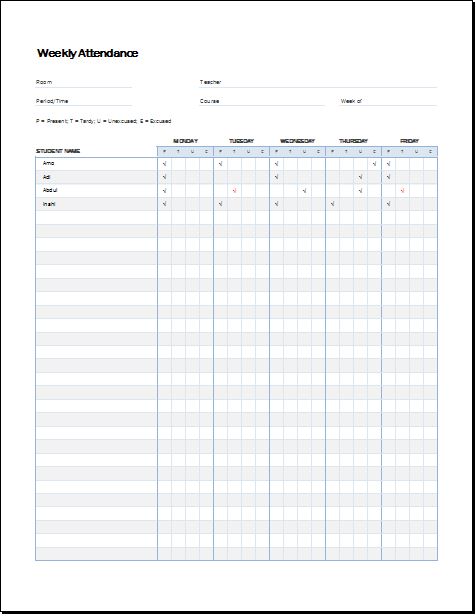 Weekly Classroom Attendance Sheet
File: Excel (.xls) 2003+ and iPad
Size 41 Kb   | Download
File: OpenOffice (.ods) Calc [Cal]
Size 12 Kb   | Download
Distribution by Kate Elizabeth(CEO)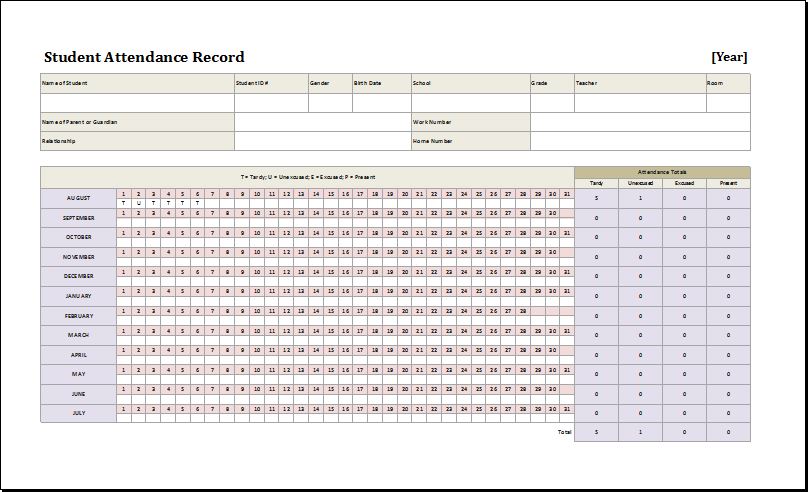 Daily & Monthly Classroom Attendance Sheet
File: Excel (.xls) 2003+ and iPad
Size 41 Kb   | Download
File: OpenOffice (.ods) Calc [Cal]
Size 48 Kb   | Download
Distribution by Kate Elizabeth(CEO)