#1
Hope you will be fine. This letter is to inform you that ABC Company is closing on account of Christmas holidays from 21-12-20XX to 10-01-20XX. This announcement is from the CEO of the company and a hard copy of it will be provided to you on Wednesday. You must work for extra hours this week to compensate for the workload of the holidays. In this way, you will have less burden when you will come after vacation.
I will remain available during office hours if you want to ask anything in this regard. No indoor and outdoor activities will be held in these holidays and business will remain closed totally. So, you are requested to wind up your pending projects and tasks before the Christmas holidays.
All the queries will be answered after the holidays regarding projects or any other office task. Hope that you will have an exuberant and enchanting time with your family. You will get a Christmas gift as well as a bonus for this year along with your monthly salary. Wish you all a very happy Christmas. May God bless you all.
Regards,
Mark Twain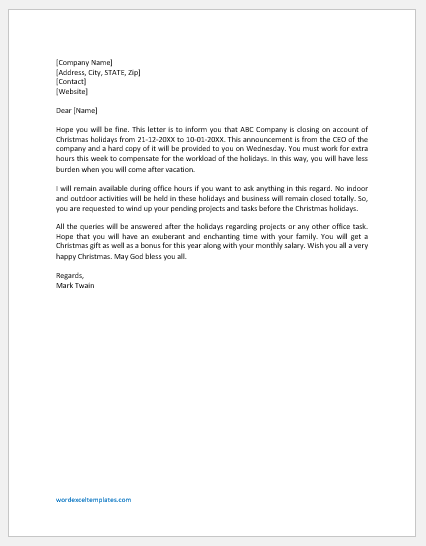 File: Word (.docx) 2007+ and iPad
Size 19 Kb
Download
---
#2
Dear employees,
I am Ronald Mark, the CEO of [X] company, and writing this letter to notify you about the holidays. As you all know this is the holiday season and each one amongst you is eagerly waiting for the announcement of holidays. So, this letter is to bring happiness to your faces. I am thankful to all of you for trusting and working with us. We all have a strong employer and employee relationship, and I am looking forward to having the same kind of relationship in near future as well.
The company will remain closed from 22-12-20XX to 10-01-20XX and in this period all kinds of activities will remain closed. Only two or three senior officers will visit during the start of the new year to have a look at some projects. I hope that you all have got my message well. Enjoy these holidays at your best and spread happiness.
Regards,
Arnold Tom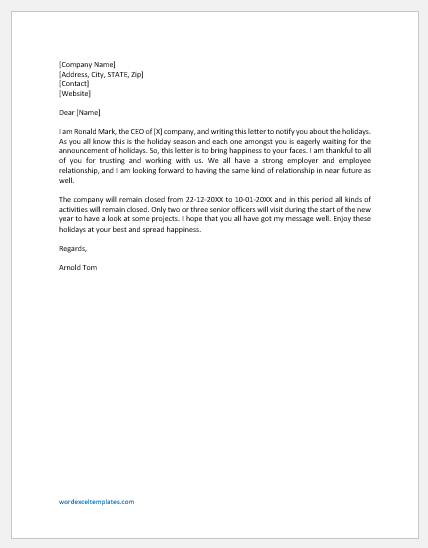 File: Word (.docx) 2007+ and iPad
Size 13 Kb
Download
---
#3
Dear employees,
Please notify that due to Christmas arrival Leopard Courier Services shall remain closed for seven days. We will not accept any orders and deliveries these days. The purpose of this notification is to curtail any disruption caused. The business will continue again after the holiday closure. I from all the team members of Leopard Services wish you a very happy Christmas with the hope that you will spread happiness on other faces too.
Do not forget to take care of yourself as Covid-19 cases are increasing day by day. Avoid going to rush places and parks as there are a lot of chances to get infected from there. I hope that you will keep all these measures in your mind. Moreover, you will get a surprise gift from the company and most probably we will deliver it to your homes to add more colors to your lives.
If anyone of you has any queries and issues regarding this notification, then you can contact me without hesitation or you can visit me in my office. I will remain available in my office tomorrow from 9:00 am to 5:00 pm.  
Regards,
Joseph Mark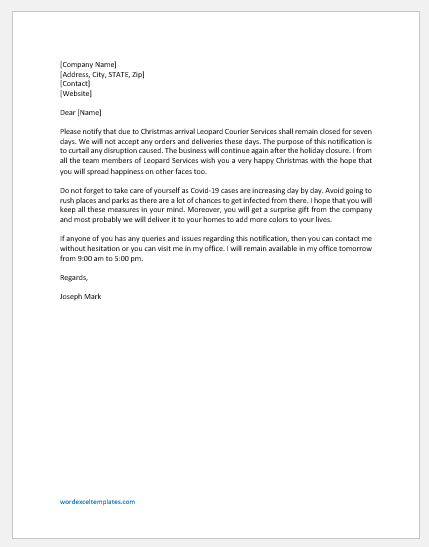 File: Word (.docx) 2007+ and iPad
Size 21 Kb
Download
---
#4
Dear staff members,
This letter is to inform you all about the closure of business because of Christmas arrival. As you know that the holiday season is coming as well as Christmas so on this occasion the company will remain closed for the period of ten days. I wish that you enjoy every bit of this season with full zeal and enjoyment.
You all aware of the fact that everyone waits for these holidays and we also look forward to these holidays. So, I hope that you will have quality time with friends and families. Christmas holidays are just three days away from you and I wish all of you a very happy Christmas.
Please notify this thing too you must wind up all the tasks before the holidays and I hope that with the excitement of holidays you will try to complete it as soon as possible. In case of any queries, you can visit me tomorrow in my office. Stay blessed.
Regards,
Matthew Arnold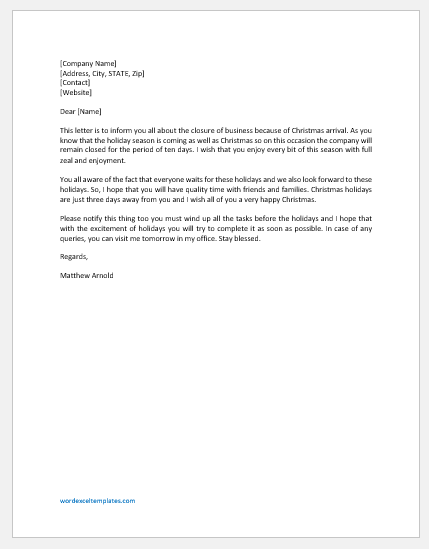 File: Word (.docx) 2007+ and iPad
Size 21 Kb
Download
---