When you want to conduct an analysis of the home business market, you can use the template to help you get information about the market.
How to conduct the Business market analysis?
It sometimes seems to be very overwhelming to write a business plan for the home business market. However, if you want to conduct the analysis, it is an easy job. The purpose of the market analysis is to get information about the market as much as possible so that you can act according to the market in order to boost sales.
For a better analysis, one needs to focus on the potential customers of the company so that you can obtain various details about them such as their gender, preferences, needs, requirements, and a lot more. The competition in the market also matters a lot for you if you want to ensure that you are capable of facing the competition.
Also, focus on your company and try to figure out how you will be able to get your company adjusted into the targeted market. You should know the competitive value of the market along with the unique value of the company.
Business market analysis and SWOT:
No matter which type of analysis you are trying to conduct, SWOT is an important part of the analysis. If you are running a home business, and your focus is on promoting your business, SWOT is of high value to you. SWOT (strengths, weaknesses, opportunities, threats) focuses on all the areas of the business. With the help of SWOT, the businessman can easily know about the strengths of the business he is running. In this way, he can know how better his business can perform.
A businessman can determine the weaknesses of the business so that he can take the necessary steps to make his business grow. The opportunities can also be seen with the help of SWOT. A businessman can also focus on the threats so that he can prepare himself to face those threats.
Business market analysis and SWOT template:
The use of the SWOT template makes it easier for the user to conduct the analysis. There is so much that goes into running a particular type of business in a specific market and making it successful.
When you get your hands on the template, you save yourself from having to perform the entire analysis without putting in extra effort and spending extra money. The template contains all the details that are needed by a businessman to conduct the analysis.
A typical market analysis template includes details such as:
Summary or introduction of the home business market
The needs of the home business market
Details of competitive analysis of the market
Obstacles faced by the person in the market
This template is a useful tool when there is a need to get feedback which is essential for every businessman in order to know how better he has been doing.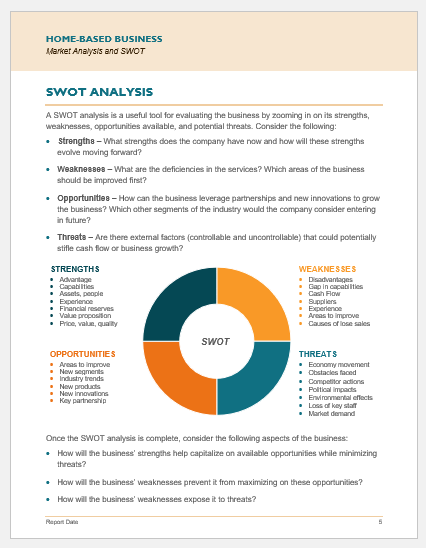 Other resources: templates.office.com
See also: