What is an eviction notice?
A formal letter which is sent to the tenant from the landlord to evacuate the premises in which they are living is called an Eviction Notice. It is indeed an official way to explain the tenants either to pay their rent or leave the premises.
We design the eviction notice templates in a highly professional way to do the needful. We provide different types and schemes for the evacuation notices. One can give the 5-day eviction notice, 15 days eviction notice or 30-day eviction notice as per the landlord or company's need. In the sample template, we offer 30-day evacuation notice. Change the number of days to work it accordingly.
Dates:
It includes the date at which the evacuation order is being generated to the tenant. It is the effective date from which the duration of notice begins.
Tenant Information
It includes the name of the tenant and the address of the tenant including the city or state to whom the evacuation order is being sent.
Eviction Notice:
The eviction notice is designed in a professional way where the name of the employee and the date on which the premises need to be fully evacuated is mentioned. It also includes the reason for which the notice is being sent such as the not-paid rent is the most common issue. The failure in evacuating the premises would force the landlord to take the legal action such as filing a case against the tenant.
Date
Name of Tenant
Address of Tenant
City/State/Country
I [Landlord Name] hereby formally writing this final notice to you. This is to inform you that you have only [30] days to evacuate the premises you are currently residing in. You have been previously sent an official notice on [date] but we received no legal response from you or other occupants in the same property.
Reasonably you have been charged with not paying rent on the date you signed the lease. You have been indicted for damaging the property as well. In which case, the total amount due at you side gets double.
The main reason for writing this notice is to let you know the next step. That is filing a legal case in the court. After which the premises will be evacuated from you in an official way. You must provide defense against these allegations in the court. After which the signed lease will be terminated as per the agreed instructions.
Respectfully
Landlord's Name
Preview and Details of Template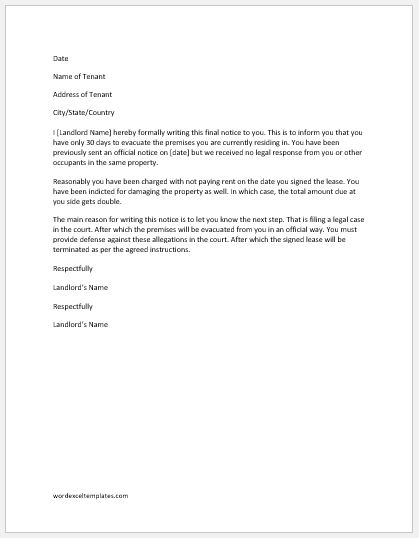 Eviction Notices
File: Word (.doc) 2003+ and iPad 
Size 33 Kb | Download
[Personal Use Only]