Warning Letter for Unacceptable Behavior at Work
Sometimes the employee in any company behaves too non-professionally that you must draft a format warning letter to him. The main purpose of writing this letter is to inform the employee that his/her behavior is not acceptable at work. The letter should also explain the expectations from the employee and the consequences of such nonseries behavior.
The warning letter is not something ordinary which is issued to the employee. It is the document which is not used until the employee commits a serious mistake. The letter should state that if the employee will continue his bad behavior despite the warning, the organization has a right to terminate the job of the employee. The employee can be warned verbally, however, written warning is more influential.
The letter should be started with a formal warning, and it should also be stated that several verbal warnings have already been given.
The letter should ask the employee to consider this letter as a last warning. The consequences in case of continuing the same none serious behavior should also be mentioned in the letter.
The letter should be ended with the statement asking the employee to avoid misconduct. It should also be told in the letter that the behavior of the employee will be under observation hereafter.
Warning letter for unacceptable behavior at work:
Dear [Recipient's Name],
It has been brought to the notice of the management of the company that you have behaved very non-professionally on several occasions. As a manager of the company, I have a full right to ask you to get back to your work with serious attitude and passion. Please consider this letter as a warning.
Even though we have given you many verbal warnings, you have not shown any improvement in your bad behavior. If you continue your bad behavior, we will have no choice but to terminate your job.
We expect you to rectify the problems generated due to unacceptable behavior.
Preview and Details of Template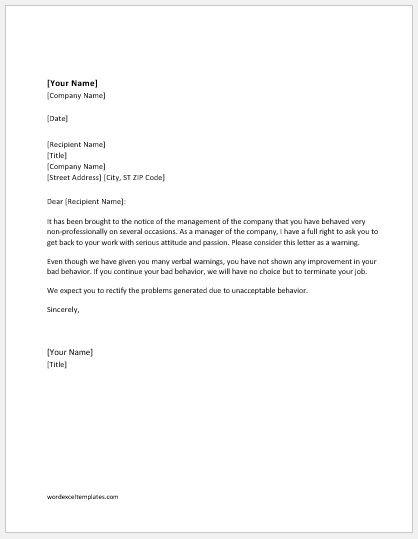 Warning Letter for Unacceptable Behavior at Work
File: Word (.doc) 2003+ and iPad 
Size 29 Kb | Download
License: ENERGY [Personal Use Only]