Spring season is a sign of happiness and joy. People feel so excited at the onset of the spring season after a chilly autumn season. With all the happiness and excitement, the spring season also comes with the stress of deep cleaning the house and office. It is usually an annual ritual that people follow and gets rid of collected dust that they could not clean in the autumn season.
What is a spring cleaning checklist?
Cleaning does not have to be too stressful at this age and time as there are so many tools available that provide you with the necessary assistance in cleaning your space in the spring season. One of those helpful tools is a spring cleaning checklist.
It is a list of tasks that a person is required to perform in the spring season to ensure that the space has been cleaned and washed thoroughly.
Why it is important to use the spring cleaning checklist?
Cleaning your home thoroughly is not an easy job. Due to this, many people avoid it and do nothing about the accumulated dust. However, the process of decluttering your space when the spring season begins is not so hard if you follow the right strategies. Using the checklist is one of the right strategies, especially for those people who have never done this before.
The checklist comes with a concrete plan to follow for cleaning the house. It is important to note that the checklist that you find on the internet may not be entirely relevant to you. However, you can still use it because it will keep you disciplined and organized.
What are the benefits of the cleaning checklist designed to be used in the spring season?
The checklist makes your life easier as you can do everything in the right way. Here are the top benefits that the checklist for cleaning brings to the table.
It keeps you organized:
When you are cleaning the space, there is so much on your mind and this often makes you feel perplexed. This usually happens when you are not organized. The checklist has a list of things to do and it helps you stick to one task and you cannot jump to another unless you have finished the first one. Due to this, there is no half-done work and if you have a look at how much you have done, you will be surprised to see your organization.
It keeps you consistent:
When you are cleaning the house without the checklist, it becomes almost next to impossible for you to retain your interest. Sometimes, the cleaning may last for many days provided the size of your space to be cleaned is too big. In this situation, many people forget to show the same spark with which they initially started.
However, when they have a checklist, they can see how much work they have done and how much is yet to be done. This way, they remain consistent as they keep an eye on the goal and time required to reach the goal.
It helps you clean every part:
It is common to ignore several parts of the house while cleaning it. However, the checklist keeps reminding you about every part enabling you to pay attention to every nook and corner of your house. Since thoroughly cleaning is your ultimate goal, this to-do list also gives you peace of mind when you see that you are progressing at a good pace without ignoring any part of the house.
How to use the spring season cleaning checklist?
When you are using a checklist, you should be able to make the best use of it which is possible only when you follow it appropriately. Here are a few steps you must take to be able to make effective use of this to-do list:
Determine whether you want to do the daily cleaning or monthly as the type of things to do will change with this.
Pay attention to every room of your house and don't move to the next room until you finish the previous one.
Keep the stock of cleaning supplies as mentioned in the checklist. Make sure you don't run out of them halfway through.
Preview and Details of Template
#1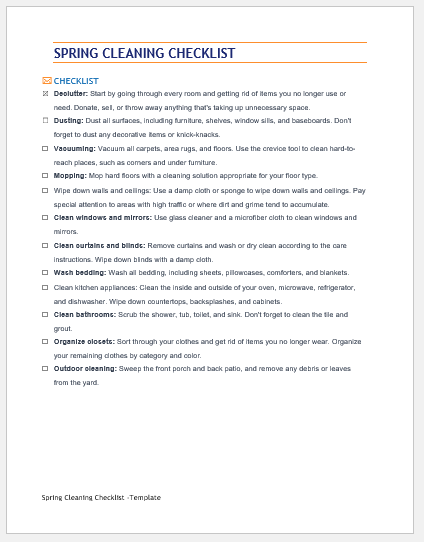 File: Word (.doc) 2007+ and iPad
Size 28 Kb
#2
File: Excel (.xls) 2007+ and iPad
Size 28 Kb