A request letter for the account certificate is written to the branch manager or any other authorized person of the bank or other institution depending on who is authorized to issue or give approval for the issuance of the certificate.
The account certificate which is also called an account maintaining certificate aims to keep records related to the specific account. The purpose behind asking for the account certificate can be for keeping as the record or other official or personal needs. Official needs include for example if asked by the employer to show the details of the bank account along with the certificate. Some companies may ask for their account certificate for the sake of keeping records or showing it while doing contracts. Some high demanding companies also ask for the certificate from their new employees to get a complete hold of employee's information.
You can also ask for the account certificate if the former one has been lost or damaged. It can also happen if there has been made any change in the account's primary credentials. Any person who is the holder of the account can make a request for the account certificate. The request is made in a very formal way providing all the credentials related to your accounts like the title of the account and account number.
Following is a sample request letter asking issuance of the account certificate. You can modify the letter according to your necessities or essentials.
Sample Letter
George Adams
233 BCM Street Nicholas Parks
New York City, New York, USA
20th April 20XX
Derrick Jab
The Manager
UNIX till Bank of Private Limited
Re. Requesting an account certificate issuance
Dear Jab,
It is to say that I opened a savings account in your bank, branch number 212 on 12th December 20XX. My account number is [X] and the title of the account is [X]. I request you to give approval for the issuance of my account certificate.
Recently, I have joined a new firm as a Senior Finance Manager. The company is interested in keeping all the copies of my important documents as a record and the account certificate is one of them. I have been given a time period of four days to provide my manager with the account certificate. Respecting all your preoccupations, I only request you to give your kind approval for the issuance of the certificate through signature assuring the issuance till the given date. I shall be available for any kind of queries at a single phone call.
Thank you in anticipation
Sincerely
(Signature)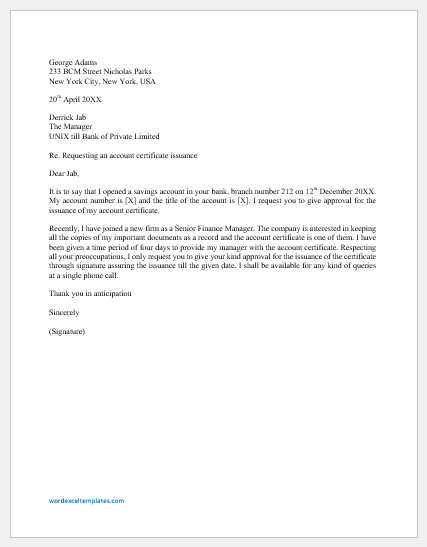 File: Word (.docx) 2007+ and iPad Size 21 Kb |
Download
---