Almost all the organizations place orders to purchase certain items they need. They have to place the purchase orders to different companies for the raw material purchases or sometimes even the items of personal business use. It is certain that a company cannot produce all of the required items on its own. They will have to place different orders every now and then. But sometimes, once a purchase order is placed, the company may feel like changing the purchase order so that the correct order can be received. The changes can occur because of anything.
Most commonly, the requirements of the companies may change or in other cases, there may be some incorrect detail mentioned on the purchase order which may require changings. No matter what the reason is, unless it is a valid one and within a reasonable time, a purchase order change request form is filled in and sent to the order taking company in a hope that the correct order will be delivered.
The main or the common reasons of drafting a purchase order change request form includes, the cancellation or the changing of line items, any changing in the account number of the party, change the dates or add in any additional feature that was missed out or to simply attach a few other documents.
This PO change request form will be immediately forwarded to the company who is responsible for the delivering of the order. The company concerned will review the change requested by the buyer company and will issue the changes if appropriate
This should be kept in mind that the changes requested will only be accepted if they are appropriate and reasonable enough. The best way to make a good impression on the seller company is to use a professional format of the order change form.
The professional format can be easily found by using a template for it. The use of the template will ensure that the time and effort is saved along with the impression it will create on the other party.
Preview and Details of Template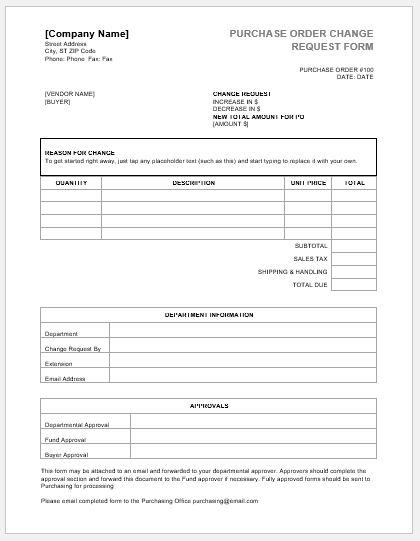 PO Change Request Form Template
File: Word (.doc) 2003+ and iPad 
Size 33 Kb | Download
License: ENERGY [Personal Use Only]