A rental agreement is basically a legal contract between the tenant and landlord. The main purpose of using this form is to recognize the legal binding between the two parties.  It is a vital document which is used when a property is rented.
It is important for the tenant as well as the landlord to read the terms and conditions carefully.  The rent agreement form allows the both tenant and the landlord to provide their details. The basic objective of using this form is to bring the both parties of the contract on the same page. A rental agreement form template in a free printable form can be downloaded from here. The form provides complete ease with which the user can edit his details.
Who should use rental agreement form?
The rental agreement form is used by the
Tenant:
Tenant is the person who takes the property on rent. This form is used by him because it protects his rights.
Landlord:
Since the landlord gives his property to someone temporarily, it is important to write a legal contract with the tenant to avoid any dispute in future.
Key elements of the rental agreement form:
Although the details to be included in this form depend on the type of property being rented and lots of other factors, there are some details which are common in almost every type of rental agreement form. These details are:
Particulars of the premises such as a house, farm or any commercial building being rented.
The details of the landlord such as name, contact information, etc. The landlord is also known as lesser.
The contact and other details of the tenant, also known as lessee.
Terms and conditions of the agreement.
The amount to be paid in advance by the tenant.
The rent amount and its duration.
The length of time for which the tenant has a right to use the rented property.
The conditions under which the agreement can be canceled should also be mentioned in the rental agreement form.
Sample Template for Your Help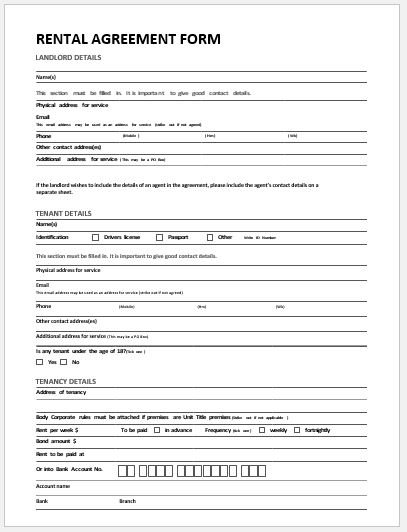 Rental Agreement Form Template
File: Word (.doc) 2003+ and iPad 
Size 33 Kb | Download