We often need leave from work or school when we know that we cannot make ourselves available at work. In this situation, we need to write a request to our employer or supervisor and ask for leave. The duration of the leave may vary depending on the situation.
What is a one-day leave application for traveling?
The leave application is a kind of request that we put down when we have to move out of the station and cannot come to work for a day. In this application, we formally ask our employer to allow us to go on leave for a day.
Why is it important to write the leave application?
When you write the leave application, you ask your employer for permission to allow you to travel. This way, you should respect the employer and work ethics. It also shows that you have a professional approach towards your work and you know that your absence can trouble everyone at the workplace and this is the reason, you choose to inform the employer about your absence ahead of time.
Writing the leave application even if you want to leave for a day is very important because your boss will have to make serious arrangements regarding your absence. He will have to assign your responsibilities to someone else. Considering this, make sure that you always inform your manager ahead of time unless it is very urgent or there is some sort of emergency. 
What are the benefits of writing leave for one day for traveling?
Key benefits are:
You show a professional attitude:
Some people don't take it seriously especially when they have to take leave for a day. They often leave even without informing their supervisor. But, people who have a professional attitude always say that they care as to who will be taking their responsibilities when they are not around.
They get the approval from their boss for traveling:
Taking leave from work for a day is not a big deal. Most employers accept the application. People should get their leave accepted before they go out of station instead of irritating their boss by not taking permission.
They show compliance:
It is the policy of most of the workplaces that bind people to not go on leave without seeking official permission. However, people don't seem to abide by the policies of the company. When people write a formal leave, they show compliance with the rules of the company.
It helps the supervisor:
The supervisor has to perform workplace management when any person from the workplace goes on leave. When he gets the notification of an employee going on leave advance, he takes necessary steps and actions to ensure that there is no mismanagement and work is managed smoothly.
Writing tips:
Inform the supervisor that you cannot attend the workshop for a day: Make sure that you remain respectful towards the supervisor when you are informing him
Don't forget to provide the reason for leaving the workplace. Mention the place where you are traveling for a day. To be clearer, specify the date on which you are going to a certain place
Ask the manager respectfully to provide you the permission to go on leave for a day.
Below is a sample letter that will be helpful for you if you are fearing writing the leave application to your boss. 
Sample leave application letter:
Date:
Subject: Leave application for one day
Respected sir,
With due respect, it is stated that I have to go out of the city for a day to meet my mother who has been feeling sick since last week. I have come to know that she has suffered severely from a kidney infection and I want to visit her tomorrow on 20th January 20XX. Kindly grant me leave for a day so that I can go and meet my mother.
I will be highly thankful to you for this act of kindness. If you want to know anything else regarding this application, please contact me. 
Sincerely.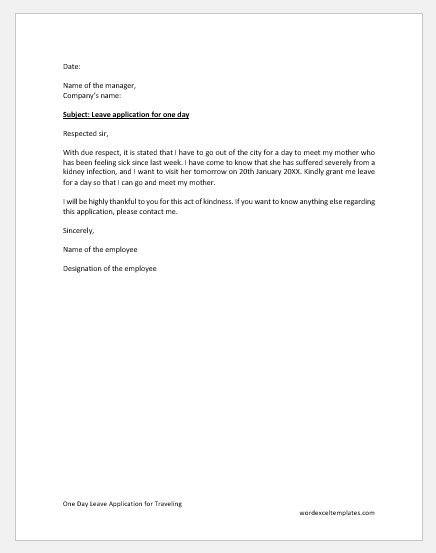 File: Word (.docx)
Size 24 KB
See also: