Authorization letters are always written to permit someone to take a certain type of defined action. With these letters, a person giving the permission has to shoulder a huge responsibility. Those who don't feel the responsibility and write the letter without giving any consideration to the circumstances and the person, eventually find themselves in the hot water.
It is a specific type of letter in which you permit a person to use your credit card. A credit card is a very personal thing, and it belongs to a single person who keeps his money in the account associated with it.
So, when a person tries to use the credit card of a person for a legitimate person or the cardholder has allowed him to use the card, he will have to show the credit authorization letter to the bank authorities to prove that he has been allowed by the account holder.
This letter is written the same as any other authorization letter. However, you need to be sure of the content that you have to add to the letter. Follow the guidelines given below:
Add a written consent with details:
Since you are sharing your consent through this letter, make sure that you do it properly. Mention the name of the person you are authorizing along with your account number. Also, mention how much amount he is allowed to take and what relation you have with the person.
Read the policy of the bank:
Every bank has a different policy regarding authorization and the content they want to see in the letter also varies. Therefore, check with the bank what information or documents they require before you write this letter.
Sample letter 1:
Subject: Letter of authority for credit
Respected sir/madam,
I, _____________ (mention your name), am an account holder in your bank with the account number (mention account number) of (mention account type). I am writing this letter to authorize Mr. ABC to reserve a hotel room (mention the hotel name) by making an advance payment with the help of my credit card.
My billing address is as follows:
(Give your address where you receive your credit card bills)
I would like to state here that Mr. ABC is my employee and I trust him. However, Mr. ABC is allowed to make transactions through my credit card only at (mention the name of the hotel). If you find him making any other transaction, I allow the bank to block my card or revoke the permission.
Thank you so much for your cooperation and support. Please call me on my office number if you want to know anything else about this matter. I would love to assist you.
Regards.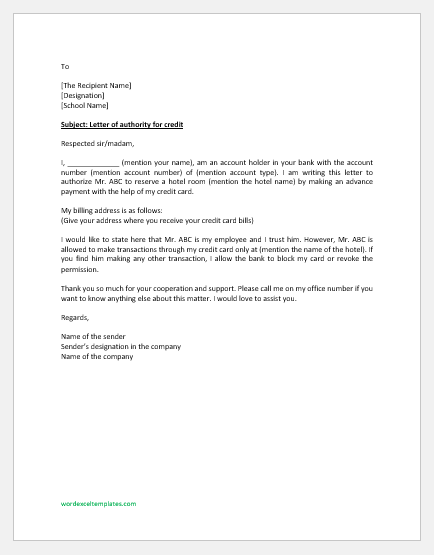 Sample letter 2:
Subject: Letter of authorization for credit
Respected sir/madam,
I am writing this letter of authorization to authorize Mr. ABC to carry out transactions through my credit card to book a flight. The flight details are given below:
(Mention flight details)
I hold a credit account in your bank details which are here:
[Name of the bank:
Account number:
Branch number:
[Account type]
Although you know my billing address, it is being mentioned here again:
[give your billing address]
It is my humble request to you to please let Mr. ABC performs the transaction as it is very urgent. In addition, I agree with the terms and conditions of the bank regarding the letter of authorization, and I am fully aware of its implications.
Furthermore, I would like to ask the bank to not allow Mr. ABC to carry out any other transaction through my card other than the one I have mentioned above.
If you want to know more about this matter or if you want to confirm the authority being transferred to someone for reserving a seat for me on a flight, I can be reached at (mention your contact details).
Regards.