A letter to the CEO for misconduct is a letter written by an employee in which he addresses his CEO and accepts his mistake of showing misconduct. As this letter is written at the top of the hierarchy it should be written carefully, formally, and professionally.
When at the workplace employees often indulge in unprofessional behaviors one such is misconduct. The misconduct could take various forms, such as:
Using authority in the wrong way.
Mistreating another employee.
Yelling at a colleague/colleagues.
Abusing someone at the workplace.
Harassing.
Mishandling a client.
Maintaining work environment…
For maintaining a proper work environment, such behaviors cannot be overlooked. Sometimes, the middle management or the immediate boss handles the situation. However, if the situation is severe and may result in severe action by the top management or if the employee has misbehaved with the middle management the employee may decide to write a letter to the CEO and apologize for his behavior.
Often, this letter to the CEO is an additional letter to an apology letter sent to the person with whom the employee has exhibited misconduct. Further, an employee even may have misbehaved directly with the CEO, and hence, this letter is written to seek an apology.
A concise letter…
A CEO is a busy person who does not have ample time to read everyone's letters, so this letter should be concise. However, it needs to serve its purpose of providing an explanation and apologizing for the misconduct. The general details included in such letters are:
Date.
Employee information.
Employer information.
Incidence of the misconduct.
Reason, explanation, or justification behind the bad behavior, if any.
Show remorse or regret.
Apologize.
Ensure non-recurrence of such behavior.
Salutations and signature.
Sample Letters
1-
I am writing this letter to apologize to you for my misconduct with my project team on 11th January 20XX.
I know that I did not handle the situation properly and got overwhelmed with the stress of the project. I regret the whole episode, and I know there is no justification for my misconduct but as it was my first time of bad behavior kindly forgive me and accept my apology. I have already apologized to my team, specifically to Mr. John, and they have forgiven me as well.
I ensure nothing of this sort will ever happen again. Kindly, do not take any disciplinary action against me. I hope for the acceptance of my apology. I am sorry again.
Regards,
Kim Wayne.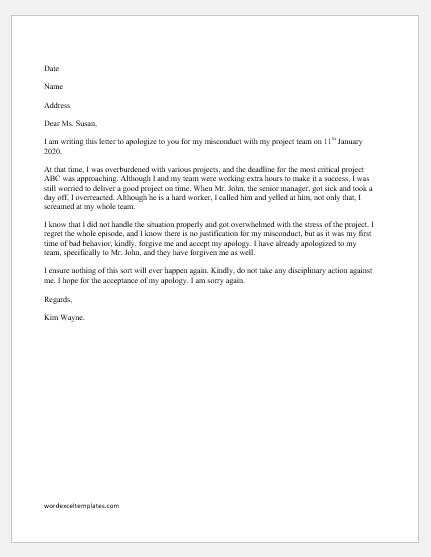 File: Word (.docx) 2007+ and iPad
2-
It is stated that I, Elizabeth Gomes, the Head Manager of the Santa Clara Group of Companies wanted to apologize to you for the unfortunate incident of misconduct that has taken place in the office.
I have been working as a head manager with Santa Clara Group of Companies now for 10 years and throughout this tenure, I have tried my best to act and perform as professionally as I can, be punctual with the office timings, put up with my colleagues and to put in my efforts in the company for meeting its goals. You are personally aware of the achievements I contributed to the company both individually and on a team level. Nobody has ever seen me misbehaving with any junior as well, let alone with any senior.
However, the previous week, I badly needed a leave due to an emergency purpose. I have now been going through personal turmoil and stressful situations for the past 6 months due to my husband's failing health. His health gradually started failing and the medical tests showed us that he is suffering from 3rd stage blood cancer. Indeed it came as shocking news to us. He is on complete bed rest and is going through the treatment phase which I am paying for.
I am going through an emotionally and financially tough phase and hence I needed a week off. I repeatedly submitted a leave application three times in the past week but each time your secretary won't let me have a one-to-one meeting with you and told me that you are busy and not meeting anyone these days.
I was also in need of an advance salary for the same purpose and hence when I could not get to meet you, I lost my temper and barged into your office without any permission or appointment. I am embarrassed at my misbehavior, the way I lost my temper and talked to you was a disgraceful thing to do, for which I deeply apologize. Despite all the stress I was under, I still shouldn't have lost my temper and should have taken care of my conduct.
It is hence, very humbly requested that you accept my apology as you now know the real reason behind my misconduct. I request you a second chance and help from the company itself.
I have given my blood and sweat to this company, and this is the time I need it to cooperate with me in my stressful hour of need.
I hope you would accept my humble apology. Thanking you.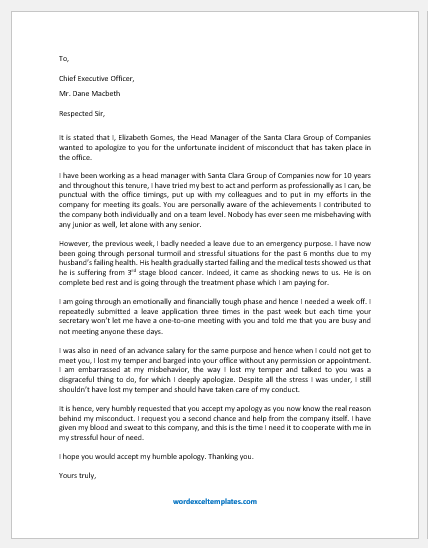 File: Word (.docx) 2007+ and iPad