#1
I am writing this to inform you that I was unable to attend your class today due to my severe health problems. Regretfully, I have come down with high fever, cough and the flu. As you know that the weather is changing and my condition is severe, so my doctor advised me to take rest for 4-5 days.
It would be a great favor if you provide me with notes of a good student so, I could cover the material of your lectures that I missed. I would be very grateful to you for this kindness.
#2
Hi, I am sorry in advance for not attending the few classes because I am going to attend the marriage ceremony of my elder brother, his marriage ceremony is held in different city (Liana) so I am unable to come to school to attend the class for 4 to 5 days, there are at least 4 functions and everyone is going to attend it. He is my only brother so I cannot leave the marriage ceremony of him. I hope you will understand and accept my leave so I can attend the marriage ceremony of my elder brother without any stress.
#3
Hi, this is to inform you that I am not coming to your class for some days because my father is badly injured due to last night's big accident. The opposite car was at full speed and hit the car of my father, my father is in hospital in a very critical situation. There are also attached to the medical report of my father. Check it and allow me to leave for 7 days. It is also requested you to please pray for my father for a speedy recovery and better health. So I will be attending the class as soon as possible. Thanks
#4
Hi, I am writing a leave message for not attending the class because my family is going to a picnic. My all brother and sisters have a long vacation so they planned to go to enjoy the picnic in our family farmhouse for one week but due to my classes and final papers, we will come in 2 days. I am the only child who doesn't have vacations, I know it's a big loss of my studies because just a few days are remaining in my final exam. My preparation is good for the exam. Please accept my request. Thanks a lot.
#5
Hi, I want to inform you that I am not coming to school to attend your class for some big reason, last night my grandfather is died due to heart failure. He lives in another city. My all family members are going to attend their last rituals so it is not possible for me to not go and attend the class so kindly grant me allow leave for 3 to 4 days so I am going with my family for my grandfather's last rituals. I need your cooperation and pray for my grandfather. I shall be very thankful to you.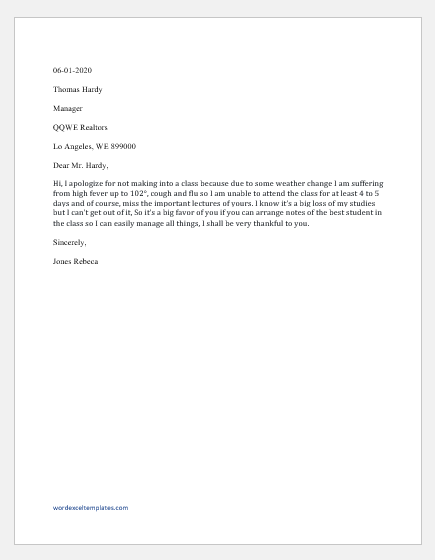 File: Word (.docx) 2007+ and iPad Size 17 Kb |
Download
---