TOWING BUSINESS SERVICES
Towing is a service provided by either the towing company or garages. Whenever someone's car breaks down or gets a flat wheel they need a towing service. The invoice marking the availing this service and paying accordingly is called the towing receipt. A towing company provides a number of services and the receipt is a detail explanation of their usage.
The tow receipt displays information such as; The name of the tow company, The logo of the tow company, The address and contact information of the tow company, The receipt number or id, The date of issuance, Name of the client, The address and contact information of the client, Name of the person who requested the tow, Time of the required service, Owner of the automobile, Mileage, Starting and end time of the service, Extra person, Vehicle towed to, Description of work, Towed on the order of, Reason for service, Type of tow (e.g. if lifters are required or not), Extra equipment if required, Storage (is required in case if the car is possessed by the authorities) duration, Payment method, Towing charge, Labor charge, Total of all the charges, Authorization signature.
Towing can be ordered by local authorities as well in case of accident or arrest, therefore a detail of each and every aspect is vital to record. A number of tow receipt templates are available with varying details. You can choose it according to the services you provide and the detail you need to record. The receipts can be pre printed and kept in the tow truck to be filled on the spot or can be printed after the tow service is provided.
PREVIEW & DETAILS OF TEMPLATE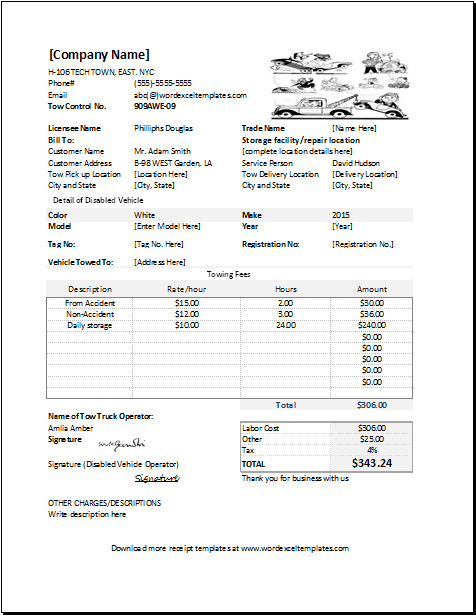 File: Excel (.xls) 2007+ and iPad 
Size 100 Kb   | Download
File: OpenOffice (.ods) Calc [Cal]
Size 82 Kb   | Download
License: ENERGY  (Personal Use)
(Distribution) by Kate Elizabeth(CEO)