When it comes to doing a research project, it is important to be present when needed. Many educational institutions have a strict policy when it comes to attendance. If you are conducting research with a supervisor and cannot attend a meeting, you must let the supervisor know why. You can send the absence excuse letter to the research supervisor here.
What is it about writing to the research supervisor for an excuse?
An absence excuse letter to a research supervisor is the letter that a graduate or doctorate student conducting their research with a supervisor will write if they fail to meet with the supervisor. If you do not follow the procedures and do not behave professionally, you will make a bad impression in front of the supervisor.
How important is it to write to the supervisor?
An absence excuse letter to a research supervisor is important because it allows a student to professionally let a supervisor know why they did not attend a scheduled meeting. The student can give the reasons for this and apologize as well. A supervisor organizes meetings with students so that they can get the guidance they need to do their research.
There are times when special arrangements are made to let students know they are available. If a student is absent from this, it can annoy the supervisor. The excuse letter helps out here.
Who is the one writing this document?
It will most probably be a student who is working with a research supervisor who will design this letter. This includes those students who are not able to attend a certain class or meeting. If a scientist is working with a supervisor, the scientist can write a letter.
Generally, whoever needs to let their research supervisor know of their absence will write the letter.
How do I write an absence excuse to a supervisor?
If you need to design the absence excuse letter for the research supervisor, you will need to do it professionally. You can consider the following tips here:
Send a letter on time:
It is vital to send the excuse at the right time. It should be sent at a reasonable time before the meeting so that the research supervisor will know of your absence. No inconvenience should be caused by this. You need to convince the supervisor that you are telling the truth. You can provide evidence that supports your excuse here.
Short and precise:
Do not include anything unnecessary in the letter because it will annoy the supervisor. Only include what is important and what will immediately let the supervisor know of your absence and the reasons behind it.
Formal letter format:
The letter will have a formal format. You will include a date and the details of the recipient. Start the letter by stating when you want to be excused. Immediately let the supervisor know that you will not be able to attend a meeting. Give the dates here. You can tell when you will be able to attend meetings.
In the next paragraph, you can tell why you want to be excused. Give the reasons here, and make sure that they are convincing. If you will be absent for some days, you can state that you will be able to work from home so that no work gets missed.
Apologize for any inconvenience caused and state that you hope the supervisor will accept your excuse. You will show your concern and let the supervisor know you are concerned about the research. You can state that you know the importance of completing the work on time, but due to circumstances, you will need to be absent. You will end the letter professionally with something like "Regards" and the name of the sender, as well as signatures.
If you want your excuse to be accepted and if you want to maintain a good image in front of your supervisor, you should write a professional and formal l excuse letter when you need to be absent from any meetings, classes, etc. You may download a template of the absence excuse letter that can help you write the letter.
Samples
#1
I am writing to inform you that I will not be able to make it to the lab tomorrow due to urgent personal business. I apologize for the inconvenience my absence will cause.
I understand that our research procedures will be disrupted due to my absence. However, I will make up for it by giving extra time to our studies in the coming week.
I would appreciate your consideration. Thank you for your support and cooperation.
#2
I am contacting you about an unexpected family emergency that requires my immediate attention. Regrettably, this means I will not be able to begin the XYZ survey today as I cannot make it to the institute.
I request your understanding and consideration. I will begin the survey as soon as I am back. I am also willing to work extra hours to make up for the lost time during my absence.
I will be grateful to you for your cooperation and support.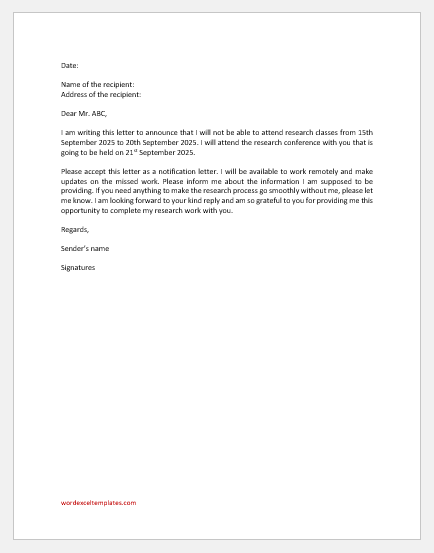 File: Word (.docx) 2007+ and iPad
Size: 19 KB