Re. warning for Unprofessional and Inappropriate Behavior
Dear [name of the employee], recently, speaking to your immediate supervisor and head of the department about your performance, it has been revealed that your behavior is inappropriate and does not fulfill the expectations we have as an employer. It is informed that your outdated practices, general demeanor at the workplace, inappropriate body language, and unprofessional handling of the tasks and assignments given to you were monitored closely.
Another important point mentioned while reporting your conduct was your insubordination and denial of taking orders from the upper cadre as they are.
Dear [name of the employee], our organization has a certain set of patterns of policies, rules, and regulations related to employees' conduct to assure professional behavior and a cordial environment. Unprofessional behavior and inappropriate demeanor not only damage your image but also creates an air of discomfort and agitation for other employees as well. We appreciate innovative ideas and welcome work-related suggestions from our employees but subordination is considered as a violence to our policies and rules.
We do not tolerate inappropriate behaviors like harassment, giving out loud inappropriate remarks while body-shaming your colleagues, being rude to low-grade workers, and teaming up with certain people for groups.
We want to make it clear that the company has strict policies against such behavior and a code of conduct. We do not encourage discrimination and therefore, we have designed strict policies to shun such behavior and gestures.
This letter is written to make you understand our policies and how their implementation can damage your working career here in this organization. I am sure that you will take this notice seriously and correct your behavior.
Please consider this letter a warning notice and make immediate corrections in your behavior to avoid any problems in the future. In case of not correcting and mending your ways, the organization's concerned team will take strict actions which can result in suspension or termination of your employment without prior notice and termination benefits.
To avoid any unpleasant outcomes, please be serious, productive, and professional at work. Be friendly with your colleagues but do not forget your limits as a colleague. Also, avoid using abusive and inappropriate language. If you have any problem with the projects/assignments, discuss them with your supervisor before making any changes by yourself.
If you want to justify the accusations, you are welcome to meet me in person during office timing or write to me an email explaining your inappropriate behavior at [mention email address]. You also have the right to request an investigation of this matter which would be carried out by the Department of Human Resources. However, this is very unlikely to happen, therefore, I ask you for an immediate response and do the needful.
Thank you.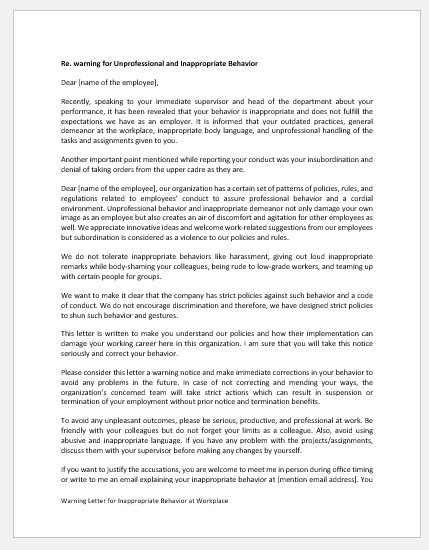 Re. Notice for Inappropriate Behavior
Dear [Name of the employee],
With special reference to the incident that occurred on [mention the date], this letter
concerns your inappropriate behavior with Assistant HR, Senior HR Manager, Supervisor Warehouse, Assistant Production Manager, and Quality Assurance Assistant. Our organization believes in the equitable rights and horizontal relationship of the employees, however, still, some people are senior and should be respected in any way.
No employee can call out bad names and insulting remarks to their seniors. The incident reported to me about the violent discussion which started from the petty point of company policies led to a violent loud dispute that erupted discomfort in the office work and disturbed the office's working environment. This incident kept people from working on their ongoing assignments for two hours which caused a halt to work.
Due to your violent and inappropriate behavior, the organization has decided to take a staunch stance on this and would investigate the matter. Regardless of seniority or any other benefit, the organization will take strict measures and actions against whoever is proven to be guilty of the dispute. We are carrying out this investigation from tomorrow by calling out a meeting in which your presence will be mandatory.
Please gather your points in an organized way and let us know of your side in the meeting tomorrow. Thank you.
Regards,
General Manager
[Signature]