Getting the security returned at the end of the contract is a problem for many tenants. You are required to request for the return of security when the landlord is unable to pay you in the specific time period.
Depending on the laws and rules of your country, the landlord should return the security within 15 to 30 days after the contract ends.  If they don't, security return request form can be sent to them.
What is a security deposit return request form?
It is a form which is sent to the concerned person or organization in order to get back the security deposits paid at the beginning of the contract.
There are some landlords who like to put the tenant on hold when it comes to paying the security back to the tenant. This action is considered illegal if the landlord does not pay you within one month after the ending of the agreement.
How to write request form for returning the security?
The format of this form is same as other request forms however, it may change depending on the format specified by the state. A format and professional request form can be written very easily since it has a very simple format and structure. Here are some easy steps to create this form:
You can use MS Word sheet or PDF format for building this request form.
The form should be started by giving the title at the top of the page. The recipient of the form should readily know what the form is about.
There should be ''TO'' and ''FROM'' fields in the form that will collect the information about the tenant and landlord.
The total amount of security paid to the landlord and the date on which he was to return it should be clearly mentioned in the form.
Make sure that the form has been created in such a way that everyone can easily fill it.
The template of the form is available for free download. It has many customizable features that make it easier for you to edit it according to your needs.
Preview and Details of Template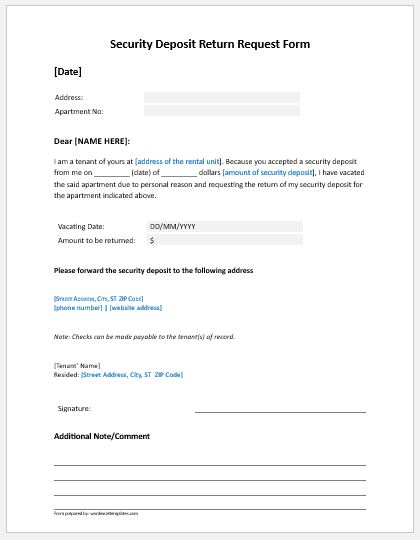 Tenant Security Deposit Return Request Form Template
File: Word (.doc) 2003+ and iPad 
Size 81 Kb | Download
[Personal Use Only]