T-shirt order letters are written by a person or organization to the manufacturer, distributor or vendor of t-shirts. In this letter, the person specifies the details of the t-shirts that are required so that delivery can be made on time and as per the requirements.
The letter usually includes details such as:
Number of t-shirts required.
Required designs.
Required colors.
Required sizes.
Delivery date.
Any other details.
Certain organizations prepare a t-shirt order form in which the details of their offerings are specified. The person who wants to order can simply check the required details rather than sending the company a customized letter. On the other hand, some companies offer customized t-shirts or do not have a form. In such cases, the letter is written, to communicate all the details required, to the company so that the proper order can be received by the person or organization ordering the t-shirts.
Such letters are a way of ordering as well as are a formal communication between the two parties. This is a proof of order which can be utilized for the transaction purpose as well as kept in the record file.
Sample letter -1
Dear Ms. Jill,
I am writing this letter to order t-shirts from your company, the XYZ limited.
I have ordered t-shirts before from your company and the experience was good. I want to place another order with the following details:
Number: 20 t-shirts
Design: US flag printed on the front (measurements: 5 by 5 inches)
Color: black
Size: 10 small, 5 medium and 5 large
I need the t-shirts by 15th October 2019 so, kindly deliver accordingly.
I hope to receive the same quality t-shirts as the last time. I am attaching a picture of the sample design that I want to get printed on the t-shirts. If you have any questions, feel free to contact me at [Contact].
Regards,
William Smith.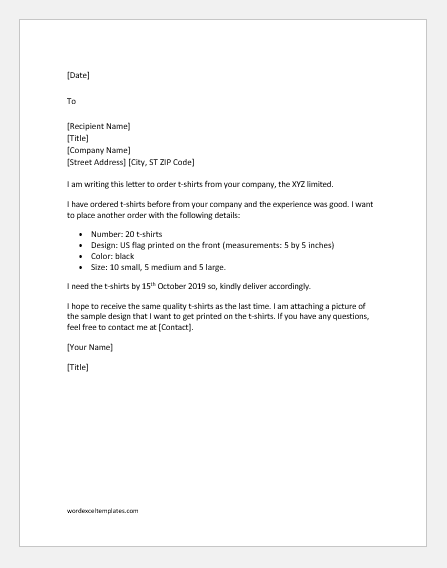 Sample letter -2
Dear John,
I want to order t-shirts of the brand 'The WSND' from your XYZ store.
I visited your store last month and bought a t-shirt of this brand available at your store for my personal use. My experience was very good so, now I and two of my relatives want the same brand. However, as I cannot physically come to your store, kindly deliver the t-shirts with the following specifications:
3 t-shirts.
1 small and 2 medium.
White color.
Any design.
I want the t-shirts by 27th September 2019. Kindly order the t-shirts from the manufacturer accordingly so you can deliver them to me on time.
You can contact me at [Contact].
Regards,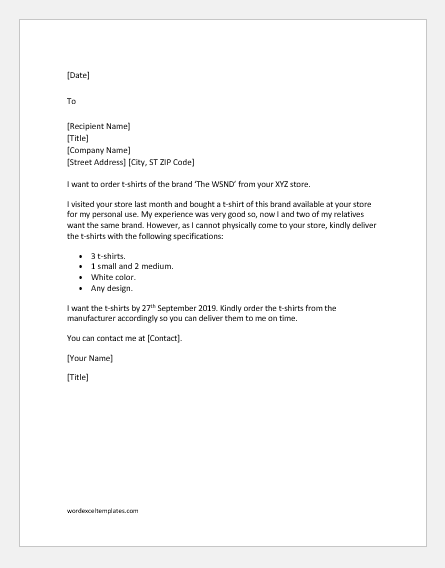 Sample letter -3
Dear Jennifer,
I am writing this letter to order t-shirts of GTX brand.
I am a procurement manager at XYZ school and want to order t-shirts for our upcoming annual sports day. As you are the sole distributor of GTX brand in our locality, I am writing to request you for 30 t-shirts to be delivered on 15th December 2019. Following are rest of the details:
Sizes: 10 x-small, 10 small, 10 mediums
Design: plain
Color: black
I hope to receive good quality t-shirts on the required date. Feel free to contact at [Contact].
Regards,