Summers bring with them scorching sun above your head with an angry glare but hey! Isn't this the time of year which has the least number of vacations? And thus, it should be relished to its full.
Summers and vacations make a perfect match and what other better plan could be to beat the heat than organizing a party and to chill out with a lot of your friends, take selfies, make memories that can be cherished later while enjoying the temptingly tasty food with a never-ending row of drinks.
Organizing a party comes with a huge responsibility of sending invitations. Making sure Invitation reaches everyone so that nobody gets skipped from your thrilling and refreshing party is indeed a big task.
But lo and behold we have some of the best and matchless summer party flyer templates available as flyers are handy and convenient.
These summer party flyers come with a variety of impressive templates perfect for every type of plan. Now no matter if you are planning for a cruise party or banging on the beach, thinking of having a private pool party or have a night out plan, templates are available for all these types of plans and much more.
Variety in the templates allows you to choose from hundreds of different available options according to your plan and gives you the benefit of giving that flyer a touch of your own as you are given the access to change the color patterns according to your taste and desire.
These templates will not only make your party look grand and appealing but also will save you a lot of time and yes money too as they are all budget friendly.
Flyers available are welcoming in appearance. They will attract people to your gala as you can mention above them what diversity of food and drinks would be available in your party.
In addition to food, music also attracts people and you can, therefore, mention on the flyer that music would be played by which band. Apart from all these benefits flyers would convey the venue and time to everyone clearly so that all interested individuals can clear out their schedule beforehand hence, making sure that no one misses your blast.
A cherry on the top price of the ticket and its place of availability can also be mentioned in the flyer.
But despite this, if someone has a query s/he can contact you with the address details provided by you on the flyer. You do not have to worry anymore for spreading the news about the party or distributing the tickets, all your work is done by a single flyer.
Preview and details of the templates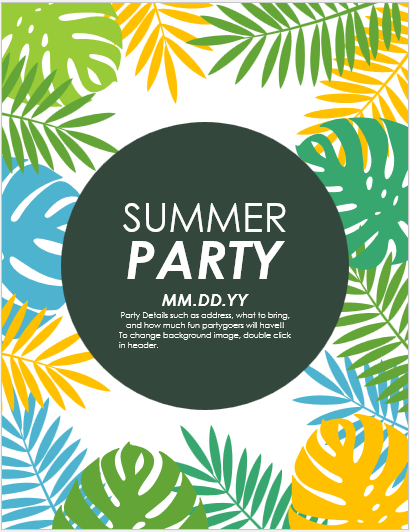 Format: MS Word [2007 | 2013]
File Size: 409
Download