What is a security company letterhead?
Security companies are the companies which aim and focus to maintain and promote the security of the people, shops or buildings. For this purpose, they hire many of the security guards as per their companies need. People contact the security companies to hire those security guards and enhances the safety of their lives and properties.
A security company is also a business and wants to boost their company'a name and earn a profit. The professional environment and the identity of the security company demand to have the fabulous company letterhead which would aware the people that it is the trustworthy and prestigious company which is working in the competitive environment with great professionalism.
Designing of Security Company Letterhead:
A letterhead is such an official document or indeed a page which contains all the rudimentary and mandatory details of the esteemed company. Create a sense of professionalism for your company and spread it to the masses throughout the globe.
A security company letterhead should not be considered a granted document. Rather, it should be properly designed. The company's identity such as company name should be mentioned on the page. The designing includes the use of adorable color or color combination in the artistic or creative way as it is the sole way that says all about your company and impresses the masses. Moreover, along with the security company name and logo, the address, email ID, fax, and contact number should be mentioned too.
Enhance the Security Company Standard Through Letterhead:
The adorable and tactile security company letterhead would make a vast difference that you may feel soon. It gives wings to your communication with perfection. Basically, it is a chance to deliver the message to the people about what you do, who you are and what is significant to your business.
It is a way of promoting your business instantly and quickly while delivering the message of being the trustworthy and reliable company. Make a difference in the thinking of clients and customers about your company through the fantastic security company letterhead.
---
---
Preview and Details of Templates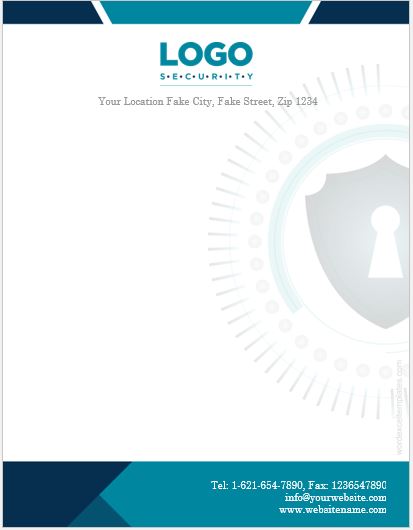 Template
File: Word (.doc) 2003+ and iPad 
Size 706 Kb | Download
[Personal Use Only]
---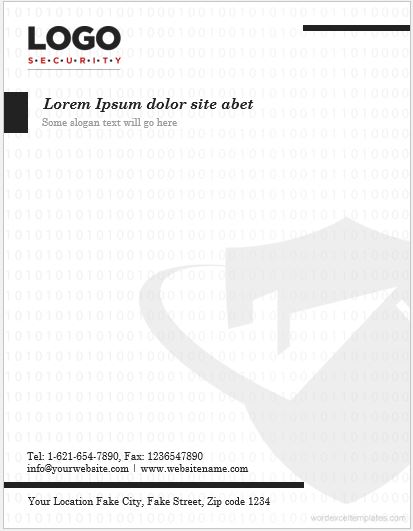 Template
File: Word (.doc) 2003+ and iPad 
Size 998 Kb | Download
[Personal Use Only]
---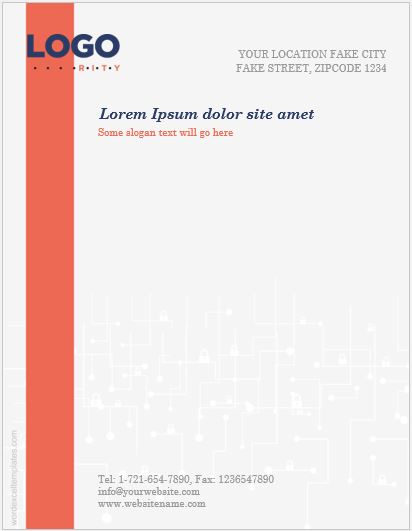 Template
File: Word (.doc) 2003+ and iPad 
Size 230 Kb | Download
[Personal Use Only]
---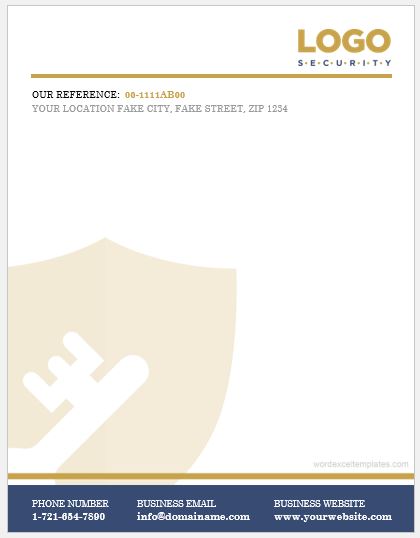 Template
File: Word (.doc) 2003+ and iPad 
Size 245 Kb | Download
[Personal Use Only]
---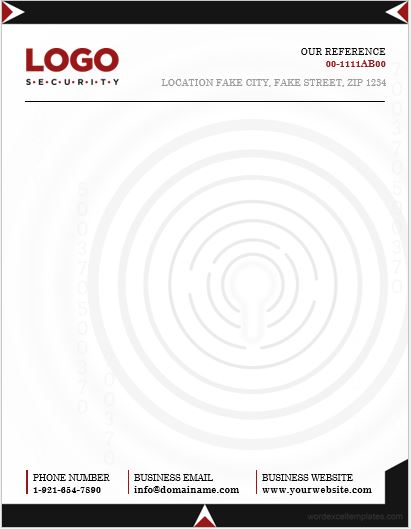 Template
File: Word (.doc) 2003+ and iPad 
Size 539 Kb | Download
[Personal Use Only]