A response letter to an angry customer over customer care is a formally written letter by an organization and is addressed to the dissatisfied customer who has lodged a complaint of experiencing bad customer service. Through this letter, the organization responds to that complaint and tries to provide an acceptable explanation as well as some sort of compensation to the angry customer. This letter is written on the company's letterhead and is duly signed by the authoritative person.
When a customer does not feel valued during or after a shopping experience or deems the organization does not care enough for the customer, he would complain to the organization, which may be an oral or a written complaint. Both types need to be addressed, but, if the complaint is in the written form, it should be replied to with a written response letter as well. The main purposes of this letter include:
To make the customer happy.
To retain the customer.
To avoid negative reviews and word-of-mouth.
When a response letter to an angry customer over customer care is written, its content can vary as per the circumstances, company's policies, customer's complaint, the compensation offered, etc. However, generally, the following details are included in such letters:
Date.
Details of the customer.
Details of the organization.
Details of the lodged complaint.
Explanation and apology of the organization.
Rectification and compensation, if any.
Statements to show how the organizations value its customers.
Apologize again.
Good overall customer care can become an organization's competitive edge, while bad customer care can become a breaking point for the organization as well. The customer is the focal point for a business, and if he does not feel valued, the losses would be of organization. The response letter to the complaints is just one way, among many, to show to the customer that the organization cares about him and can go to any length to resolve his issues and complaints.
Such response letters, often, satisfy the angry customer, and he would accept the organization's apology. However, if he does not think the compensation offered to make up for his bad experience, he may prolong the issue, and seek some other way to resolve it, be it asking for a refund, or taking the complaint to the court.
Sample Letter
Eric Dane
Manager at ABC Boutique
Dated: 28th February 20XX
Subject: Response to a complaint by [X]
Dear Eric,
I hope this letter finds you in the best of health and happiness. I am writing to respond to your customer complaint that we received yesterday. Our team viewed your complaint and evaluated the whole situation by personally talking to every staff member at the store.
Firstly, you used derogatory remarks for our staff members, which is highly unacceptable and does not suit you as well. Upon inquiry, we found out about the use of foul language at our store from your side. We treat our staff respectively and do not allow any customer to misbehave with them unless our staff is at fault then we deal with it in-house.
You arrived at the store without a prior appointment and created chaos to provide you services first while there were other customers waiting. Our manager tried to ease the situation by asking you to wait for a while, but you did not listen to anyone. I think you were in hurry, but the time of every customer is precious, and we try to provide vest services that require time.
We do apologize for not providing your desired services but hope to serve you soon after you manage an appointment at our front desk before arriving at the store. I hope you will not keep any grudges for our company and continue being our valued customer.
Regards,
[Your Name]
Manager at ABC Company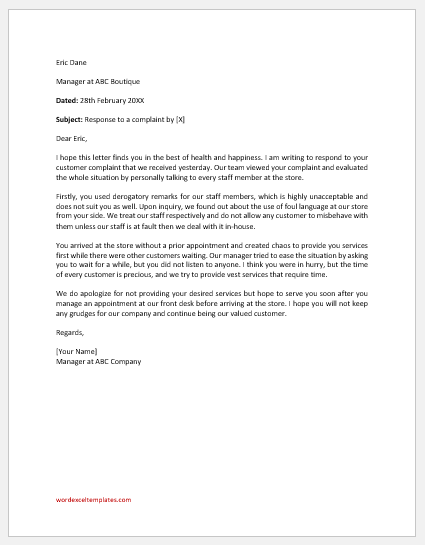 File: Word (.docx) 2007+ and iPad
Size 28 Kb
Download
---