Due to some reason, a student may need to transfer schools. This can be because their parents' job has been transferred to another location, the parents cannot pay the fees of the present school, etc. The parents need to request the school that they want to transfer their kids.
What is a school transfer request letter by parents?
This request letter will be written at the time that a student wishes to keep on studying but at another school. The reasons for this transfer need to be solid.
This letter needs to be given to the principal because a school transfer certificate may be needed. Proof must be present that the student attended a certain school.
Tips to create the letter:
Parents must write this letter carefully keeping in mind the following points:
Professional outline
The letter is a professional one and should have a professional format. The details of the sender, their name, name of the student, class, name of the principal, school, address, and date must be provided. The subject of the letter must be given so that the reader knows what it is addressing. Begin with "Dear" and name. End with "Yours sincerely", etc. and your name in full.
Short with necessary information
The principal is busy and will not be happy with a letter that has useless information. Begin by telling the name of your child and what class they are in. State that you want to transfer the kid to another school. You can give some positive points about your and your children's experience at the school. It is important to give the reasons why you are requesting this transfer. State that you hope your request is entertained and you are given permission. Be thankful for their time.
You should not be rude when writing this letter. Do not write it by hand. Rather type it and make it look professional and serious. You want the reader to allow you to transfer your children to another school, and have good character certificates for your children from this school.
Sample Letters
1-
Re: Entreaty for School Transfer Certificate
Dear Hegel,
I am Edmund Gratz from Brooklyn, New York. I am the father of Emile Gratz who is a student in grade VII-C in your school. Her roll number is 43 and registration number CG-893-GWR. Since 20XX, I had been working in a Media Consultant Agency as a Creative Director. Now I have been transferred to California. I have received my transfer letter which directs me to join the new company next week.
I want to shift to California along with my family. For Emile, it is important to get a school transfer certificate in order to get admission in another school in California. As it is obvious that all these processes are time-consuming, I request you to approve my request for giving School Transfer Certificate, so that the management can proceed with this request letter and grant the certificate at the given and specified time.
I cannot let my family live here alone as I have three kids who are in middle and high schools and my wife cannot look after them herself alone. That is why I want to shift there with my family. Keeping in view my plea, kindly approve my request by directing the management to grant Emile's school transfer certificate within one week.
I shall be grateful for this.
Thank you
Sincerely
Signature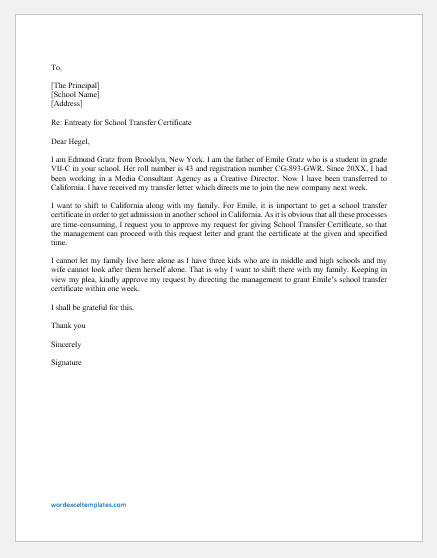 File: Word (.docx) 2007+ and iPad
Size 22 Kb
Download
---
2-
Re. Request for School Transfer Certificate
Dear Sophy,
I am Emma Stark, the mother of Nick Stark, who is your student in grade IX with roll number 67 and registration number 3923-GCG-Y78. Nick is one of the brightest students in your school. He has always done great in this school, not only in winning as in all the subjects but also got distinctions in music, sketching, and football. He has been a bright star of the school.
It is always very difficult to leave the place you love the most but sometimes, we are being human, are helpless. I and my child both, have been very happy with the school management and the teaching faculty of the school but I am sorry to inform you that Nick has to leave this school for now and to get admission to another school in Boston.
My husband, who was working as a Manager in CKL Groups here in Brooklyn, has been promoted to Managing Director and transferred him to the head office in Boston. As we have three young kids, we cannot leave them alone here in Brooklyn. That is why we have decided to shift our house in Boston. My husband has to join the office on 20th March 20XX. Keeping in view all the mentioned scenarios, I need your assistance and cooperation in getting Nick's School Transfer Certificate within three days as we have to shift and settle in a new town which is a strenuous and arduous husky task.
I cannot thank you enough to you and your school tireless efforts in nourishing and training the students and making us parents proud and satisfied. I am obliged by the cooperation and prestigious coordination that the school has done so far.
I shall be grateful to you if you spare some moments to write to the management to issue the School Transfer Certificate in the profile of Nick Stark. Thank you.
Sincerely
Signature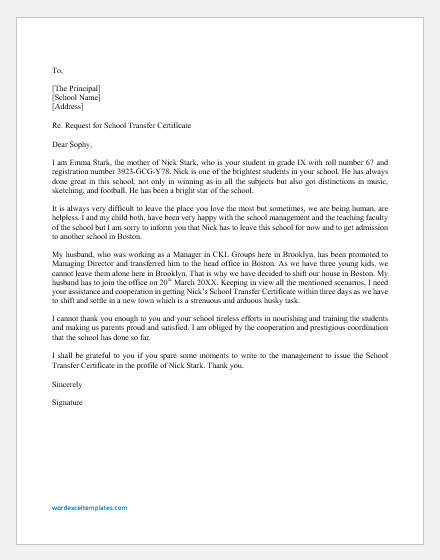 File: Word (.docx) 2007+ and iPad
Size 21 Kb
Download
---